PHOTOS: The Sexiest Australian Stars -- Stripped Down!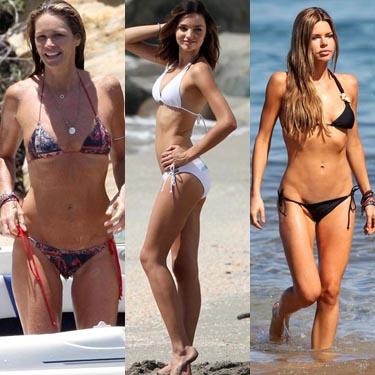 Kangaroos and Koalas aren't the only adorable creatures from Australia! From supermodels to Academy Award winning actresses, RadarOnline.com is honoring the sexiest babes from Down Under in this special photo feature.
Click Here To See The Sexiest Australian Stars-Stripped Down!
Sophie Monk is a hot Aussie singer, actress and model, who has one of the most perfect bodies on the Gold Coast. The steamy star, who has topped the charts with her girl group Bardot, graced the bigscreen in flicks such as Spring Breakdown and Date Movie and dated Paris Hilton's ex-bf Benji Madden, leaves little to the imagination when she strips off her tight dress, revealing her boobiful bikini bod.
Article continues below advertisement
Click Here To See Sophie Monk's Sexy Bikini Bod
Lara Bingle hasn't made her name on our turf... yet. The sexy model, who graced the beyond racy and controversial 2006 Tourism Australia advertising campaign, has one of the most impressive bods in the world. Never one to shy away from the camera, the curvy cutie has most recently been spotted keeping Billboard chart-topper Jason Derulo company on his world tour.
Article continues below advertisement
And when it comes to blockbuster babes, Nicole Kidman and Isla Fisher definitely know how to dominate in the sexiest way possible. But when the awesome Aussies take off their designer gowns and hit the beach in their skimpy swimsuits, that's when the magic really happens.
Click Here To Nicole Kidman's Amazing Bikini Body
Click Here To See Isla Fishers Foxy Figure In A Swimsuit
But watch out girls! Teresa Palmer has what it takes to achieve blockbuster babe status, and with her I Am Number Four release last Friday, she is sure to be an international star in no time.