PHOTOS: Pink Flaunts Her Baby Bump On Twitter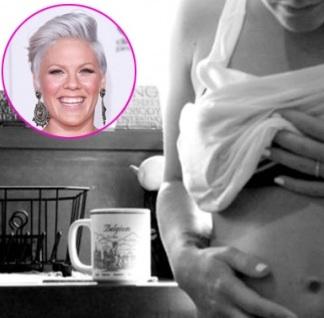 Singer Pink isn't worried about piling on pregnancy pounds and the proud mom-to-be is even showing off her bulging baby bump on Twitter, RadarOnline.com has learned.
Due in the spring, Pink posted tasteful black and white self portraits on the social networking site so that her fans could see the progression of baby Hart.
In her sassy post, Pink, 31, boasts about her photography skills while having a fun dig at the paparazzi.
Article continues below advertisement
"ALRIGHT... because paparazzi of today have absolutely no photographic skill or artistry whatsoever, and their pictures are hideous," she wrote on Friday. "I'm going to post a self-portrait I took yesterday morning for all of you asking to see belly shots. 3 wks of photo classes for me...and I am already a far better photographer than any one of them."
The artful shots show Pink at her home holding up a white tank top and affectionately stroking her belly.
Famous for her washboard abs, the fit singer has been very open about her joy at gaining baby weight, and has tweeted before about how excited she is to get fat.
Following a tumultuous split and a slow reconciliation, Pink and motocross husband Carey Hart were delighted to announce last November that they were expecting a baby.
"I worked for it. ... It was not an 'oops,'" the rock chick told Ellen DeGeneres, and admitted that she was cautious at first to confirm the rumors. "I didn't want to talk about it because I was just really nervous and I have had a miscarriage before."