NEW PHOTOS: Lindsay Lohan Parties As Felony Charges Loom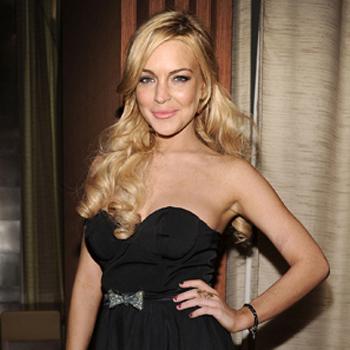 Lindsay Lohan isn't letting a little thing like a possible felony charge in a jewelry heist keep her from getting her party on. The recently-rehabbed starlet was at the opening of Giuseppe Zanotti Design in Beverly Hills Friday night, and RadarOnline.com has the picture proof.
Lohan was the guest of honor at the shoe store opening, which was also attended by Kanye West.
Very noticeable was her lack of a necklace to adorn her strapless black cocktail dress.
Article continues below advertisement
As RadarOnline.com has reported, Lindsay is being investigated in a case involving the theft of a $2,500 necklace from a store near her new home in L.A.'s Venice Beach district.
We've also learned that grand theft felony charges will likely be filed against Lindsay next week.
"She swears she's innocent," a source close to the situation told RadarOnline.com exclusively. "But authorities feel they have enough evidence to charge her and right now that's the plan. It could change but that's the situation right now."
The necklace at the center of the investigation went missing right after Lindsay was in the store -- a shopping trip preserved on the store's surveillance video. A week later, Lohan was photographed wearing the bauble.
Lohan could be charged with grand theft and commercial burglary charges, prosecutors have said.
The necklace was returned to the store by Lindsay's assistant right before a search warrant was set to be issued on her house.