PHOTOS: Bikini Bottoms Only! Stars Who Flaunt Their Boobs On The Beach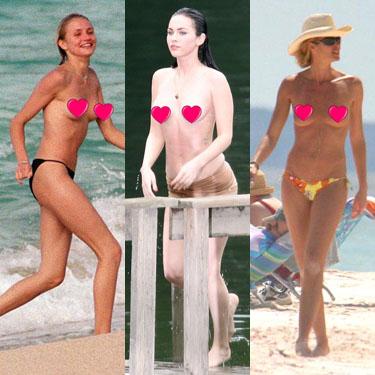 Article continues below advertisement
Cameron Diaz is a blockbuster babe with a bombshell body. The sexy 38-year-old was caught frolicking on a beach with Matt Dillon back in 1998, wearing only a skimpy black bikini bottom. If you have got it, flaunt it, girl!
Click Here To See Cameron Topless On The Beach
Megan Fox is one of the sexiest stars in Hollywood, who has no qualms about flaunting her assets in sexy style. When the former Transformer was making Jennifer's Body, she gave her fans a sneak peak of Megan's body, wearing only nude nippies during an underwater scene.
Article continues below advertisement