PHOTOS: Bikini All Stars! The Sexiest Basketball Wives And Girlfriends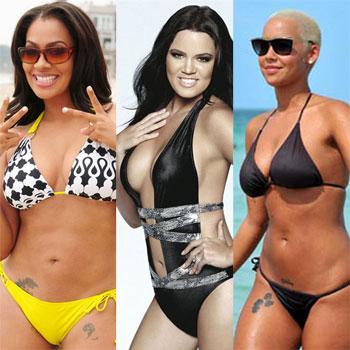 In honor of NBA All-Star Weekend, RadarOnline.com is paying homage to the hottest basketball bikini groupies in the world with a special photo feature.
Click the next sentence to see the hottest basketball wives and girlfriends, showing off their hot bodies in skimpy bikinis.
Click Here To See Basketball's Sexiest Wives And Girlfriends
The Kardashian sisters have a lot more in common than their crazy curves!
Article continues below advertisement
While Khloe Kardashian took an instant liking to basketball, marrying Los Angeles Laker Lamar Odom months after the two met, her sister Kim remained an NFL groupie.
Kim spent a few years on the football field, cheering on beaus Reggie Bush and Miles Austin before she decided that the NBA was more her style.
The reality show star is currently dating New Jersey Nets power forward Kris Humphries.
Click Here To See Khloe Kardashian Looking Sexy In Her Swimsuit
Article continues below advertisement
The big screen bombshell has been courted by both Jason Kidd and Dwyane Wade-though she has never made it to the finals with either stud.
Click Here To See Gabrielle Union's Fabulous Figure In A Bikini
And Vanessa Williams and Eliza Dushku have both enjoyed success on primetime television - and both the Ugly Betty star and the Dollhouse siren have found love with former Los Angeles Laker Rick Fox.