PHOTOS: The 10 Most Bangin' Bikini Booties On The Beach!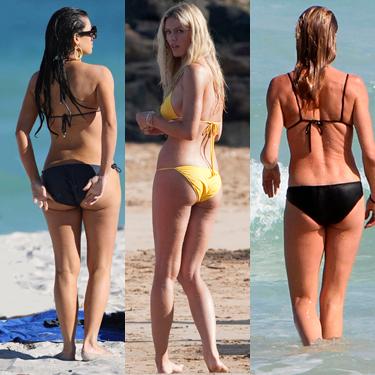 Booty comes in all shapes and sizes, but only 10 lucky ladies made our hot list! Whether tiny and tight or round and robust, these sexy stars steam up the beach with their bangin' beach bums. RadarOnline.com has photos of Hollywood stars who have the most talked about tushes on the beach in this special photo feature. To see the 10 most bangin' booties on the beach, click the next sentence.
Click Here To See The 10 Most Banging Bikini Booties On The Beach!
Article continues below advertisement
Coco has some of the craziest curves on the beach, and isn't shy about showing them off in her infamously skimpy g-string bikinis. It is amazing that the bootyfull of wife of rapper Ice-T hasn't been issued a citation for indecent exposure, as her teeny tiny strips of fabric don't always keep her assets undercover!
Click Here To See Coco Show Off Her Bikini Booty In A G-String
Kim Kardashian has some of the most awesome assets around. Little in the middle, but she got much back (and front!) the reality show star brings all the boys to the beach, when she shows it all off in her sexy swimsuits.
Click Here To See Kim Kardashian's Banging Bikini Booty
Sexy supermodel Irina Shayk steamed up the cover of the Sports Illustrated Swimsuit Edition this year with her banging body, but it was the last page of the annual issue, where the vixen showed off her rock hard and perfectly rounded booty, which really dropped jaws.
Click Here To See Irina Shayk's Perfect 10 Bikini Booty
Brooklyn Decker also did her part in bringing booty to the magazine-as well as the big screen. The highlight of her blockbuster hit Just Go With It, was seeing Brook's bombshell bikini bod from every angle.