VIDEO & PHOTO: Prince Calls Kim Kardashian On Stage During Concert -- Then Kicks Her Off!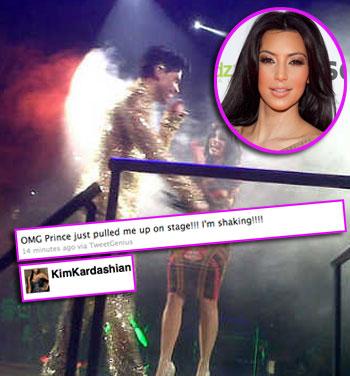 Prince pulled a shell-shocked Kim Kardashian onto the stage during his performance at Madison Square Garden in New York Monday night, but when she wouldn't shake her famous booty with him, he kicked her off stage, and RadarOnline.com has the video.
Watch the video on RadarOnline.com
"OMG Prince just pulled me up on stage!!! I'm shaking!!!!" Kardashian wrote on her Twitter account.
The reality-TV star then posted a photo of herself on stage with the Little Red Corvette singer and said, "I was so nervous I froze when Prince touched me!!!!"
Article continues below advertisement
When Kim didn't dance with the Purple One, but instead stood motionless, he gaver her the boot, playfully saying: "Get off the stage!".
Fortunately, Kim did get a shot at redeeming herself. Two hours later, she rejoined the singer back on stage.
"Went up on stage AGAIN! This time I redeemed myself. We all danced while prince played the piano! Wow! What a night!"
Kardashian attended the show at Madison Square Gardens in New York with her new beau, Kris Humphries, who also took to his Twitter account saying: