PHOTO: Meet Kim Kardashian's Sexy Super Bowl Hook Up!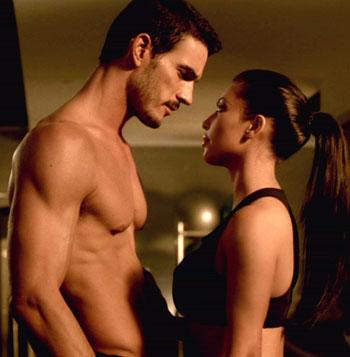 He's already been branded Katy Perry's Teenage Dream now RadarOnline.com can introduce the hunky model who got to grips with Kim Kardashian in the smoking hot Skechers ad during yesterday's Super Bowl.
Meet Joshua Kloss, the sexy star who got up close and personal with the curvy reality star in the sensual Sketchers ad.
The topless 30-year-old went where most men could only dream of as he crawled over a scantily clad Kim in a sweaty gym.
Article continues below advertisement
And it's not the only superstar he has got cozy with. Kloss got to lock lips with Katy Perry in her music video last year.
Signed to Pinkerton Models, Kloss is listed as 6'2" with a 32 inch waist and hazel eyes.
While he now lives in Hollywood, he was originally a cowboy from Portland, Oregon, and it appears he is using those rope skills to pull in all the leading ladies.
RELATED STORIES: