NEW PHOTOS & VIDEO: D.A. Expected To File Felony Grand Theft Charges Against Lindsay Lohan At Any Time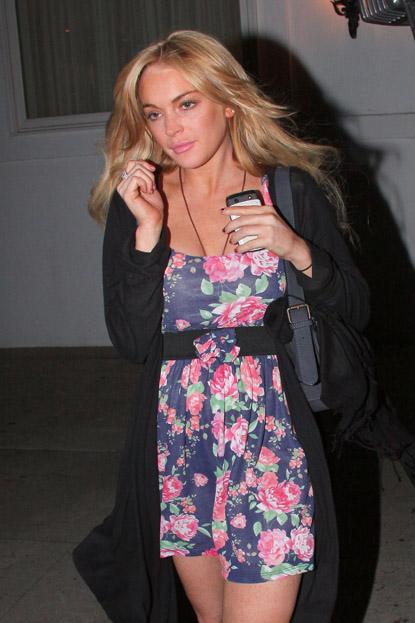 A star always wants to look her best for the camera -- even, if it's for a police camera and the picture is your latest mug shot.
NEW PHOTOS: Lindsay Primps For Prison
The Los Angeles County District Attorney's Office is expected to file felony grand theft charges against Lindsay Lohan at any time now, RadarOnline.com is reporting.
As RadarOnline.com previously reported, the 24-year-old Mean Girls star is expected to be charged on Wednesday with felony grand theft in connection with a stolen $2,500 necklace, which would constitute a probation violation for the troubled starlet.
Article continues below advertisement
A source told RadarOnline.com that the DA is going to be asking Superior Court Judge Keith Schwartz "to put Lindsay in jail, for violating terms of her probation, for six months in county. This is a separate matter from her new felony case."
A different source told us Lindsay will plead not guilty, and "feels that she is being maligned, and that she has a reasonable defense: She was loaned the necklace, plain and simple."
Another source told us that Lindsay will indeed have another mug shot to add to the pile by the end of the day.
"Lindsay's probation will be revoked... immediately," the source said. "She will be formally arraigned on the single charge, and at that time she will be expected to enter a plea of either not guilty or guilty.
If Lindsay is eventually convicted of felony grand theft, she could receive up to 3-years in state prison, although the sentence would likely be shorter.
Article continues below advertisement
"Lindsay will be remanded into custody, again, and her bail bondsman will be there to get her out. It's anticipated that her bail will be around $75,000-100,000," the source said.
Lindsay may have an unwanted souvenir to take home with her, as the judge could order her to once again don a SCRAM ankle bracelet, which detects alcohol consumption.
The court session begins at 1:30 pm PT. On the eve of her court appearance, Lindsay Lohan got her hair done at the swanky Byron Tracey salon in Beverly Hills on Tuesday, leaving the salon with a movie set-ready blonde coif while clad in a cute floral dress and black cowboy boots, and RadarOnline.com has all the pictures for you.