Kardashian Inc. Earned $65 Million Last Year!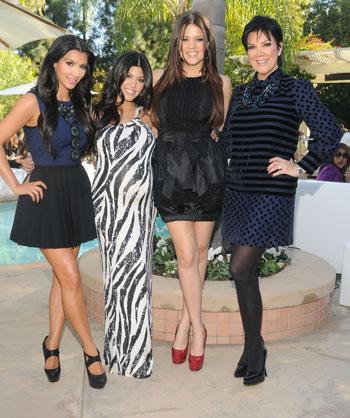 The Kardashian family is doing something right, because they earned a staggering $65 million last year.
Just to put in perspective how much money the Kardashians made in 2010, it was more than Tom Cruise, Sandra Bullock and Angelina Jolie made combined!
According to an insider at The Hollywood Reporter, the Kardashian's have banked with endorsements, a reality-TV show, Twitter, paid public appearances, fragrance lines, Dash clothing stores and more.
Article continues below advertisement
The family is led by matriarch Kris Jenner, who says, "We're just this big family with a lot of drama and a lot of issues, and there's someone here for everyone to relate to."
Lisa Berger, Executive VP of Programming at E! said she almost passed on Keeping Up with the Kardashians after being pitched by Ryan Seacrest, but now admits it's changed the face of the network and she has respect for Kris.
"Kris has been smart about aligning herself with businesses that are successful, and we haven't said no," Berger said.
"There's no reason to. Growing her business grows our business."
To put their celebrity stardom into perspective, the report points out that the Kardashians are in 300 countries worldwide - and only 194 countries are recognized by the U.S. government.
"My job was trying to take my kids' 15 minutes and turn it into 30," Kris said.
"My mother has just always been this 'Let's make water into wine' person...She knows how to take one small talent or ability and grow it into something huge," Khloe said of her mother.
Article continues below advertisement
According to the insider at THR, Kim Kardashian charges up to $25,000 just to mention a brand name in one of her Twitter posts, and she charges anywhere from $100,000 to $250,000 for an event appearance fee.
"My fantasy is to have Keeping Up with the Kardashians, Season 26... Who knew it would be this profitable? I should have had more kids," Kris joked.
RELATED STORIES:
EXCLUSIVE CLIP: Kourtney Kardashian Denies Smoking Mom Grandma Duty