PHOTOS: Are The Kardashian Kids Too Young To Model?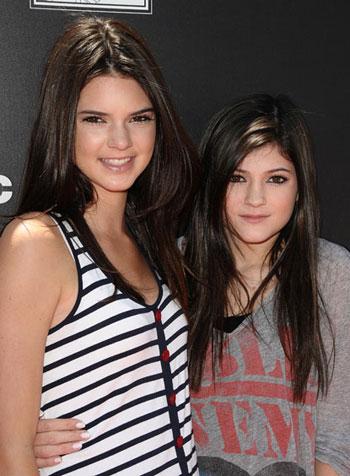 How young is too young for the fashion runway? RadarOnline.com investigates.
Of all the models before the cameras, Kylie and Kendall Jenner -- 12 and 14-years-old respectively -- stand out.
Kim Kardashian's half sisters (the daughter of Kris and Bruce Jenner) have already embarked on modeling careers.
While growing up surrounded by Keeping Up With The Kardashian's cameras has exposed the youngsters to fame at an early age, many are asking, are they ready to take on the pressure of the cut-throat modeling industry?
Article continues below advertisement
Janice Dickinson, the world's first supermodel, doesn't care how adult and graceful young models look.
"At nearly 13 years of age, she's just too young," Dickinson said.
"There's lots of drugs, there's lots of alcohol, there's lots of photographers preying on these girls," Dickinson once told TODAY, in an interview about 13-year-old Australian model Maddison Gabriel.
"Thirteen is way too young."
RadarOnline.com spoke to addiction specialist Andrew Brin, who has a Masters Degree in clinical psychology and has treated several child models, about the dangers of the seemingly glamorous and glossy teenage career.
We asked why are children, like Kylie and Kendall, attracted to the competitive industry in the first place?
"Teens are especially vulnerable to the desire for independence," said Brin, about the lure of modeling.
"They will choose freedom at any cost, even if it means selling their own bodies."
According to Brin, models often don't have an opportunity to develop an accurate and healthy sense of self-esteem, when they are thrown into an industry, which he claimed "exploits its workers."
Article continues below advertisement
Said Brin, "Self-esteem comes from esteemable acts... those are acts that a person knows on the inside are true expressions of themselves.
"Awards and accolades feel good (like praise for looking skinny) but quickly take the place of inner esteem and children become desperate for that outside attention and praise."
Modeling at a young age often accelerates a child's maturity, while stunting their overall developmental growth detrimentally, said Brin, who suggested it can lead to short-term behavioral side effects as premature sexuality, inability to trust anyone and a jaded sense of self-worth.
Long term, he said, these issues can lead to Bipolar disorders, eating disorders, and extreme feelings of isolation once their career is over.
"By the time they are in their late 20's, they are too old to model and start to feel that their entire life will have to involve selling their bodies somehow," he said.
But not everyone is washed up.
Charlize Theron, Cameron Diaz, Cindy Crawford and Liv Tyler appear to be healthy and well adjusted despite their premature careers, we noted.
And big sister Kim, for one, thinks her sibling's success so early is a good thing.
Wrote Kim on her blog the photos, "I am so proud of Kendall. She's going to take over the modeling world... you just watch!"