James Franco Says Ricky Gervais 'Bombed' At Golden Globes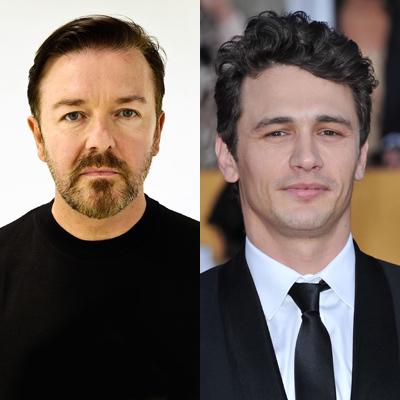 James Franco didn't appreciate Ricky Gervais' offer to help him with his hosting duties on Oscar night.
After learning that Gervais posted a sample monologue for him and Anne Hathaway on his blog, the actor hit back at the British comedian by criticizing his performance at the Golden Globes.
"He did his award show and he bombed. Why is he trying to get in on ours?" Franco told E!
"Horrible. His lines weren't good on the Golden Globes," Franco added. "Why does he want to do our lines?"
Article continues below advertisement
Gervais started the spat by writing: "Good luck to James Franco and Anne Hathaway at the Oscars on Sunday. I know how nervous they must be right now….They will do an absolutely fantastic job and don't need my help, but I've written a little opening in case they have a few minutes to fill."
After his initial shock at the idea that Gervais was jumping in on his Oscar turf, the nominated actor read the Brit comic's entire blog and actually thought some of the suggested jokes were good.
VIDEO: Ricky Gervais: 'If They Didn't Want Me, They Shouldn't Have Hired Me'
"I'll use some of these lines. Thanks, Ricky," Franco's now said.
Gervais, meanwhile, posted a new blog Saturday morning hoping to put out the feud fires.
"Amazingly some people thought that I wrote that intro to the Oscars, in the hope it might actually be used. Hilarious. I am still shocked by the existence of such stupidity in the world. As if I seriously thought if would ever be considered. It's not like I sent it to the academy or even imagined they would read it. I did it for a laugh on my blog."