VIDEO: Ricky Gervais: 'If They Didn't Want Me, They Shouldn't Have Hired Me'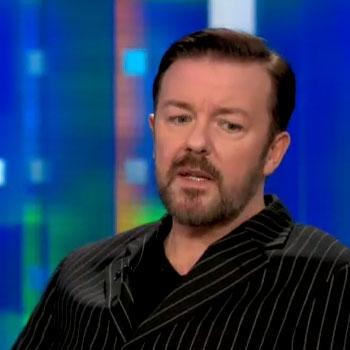 Ricky Gervais, just days after infuriating most of Hollywood with his Golden Globes digs at stars such as Robert Downey Jr. and a few unnamed Scientologists, said if the show's organizers didn't want his brand of comedy, they shouldn't have hired him as its' host.
"I don't care what people think of me," the British funnyman said on Piers Morgan Tonight, in an interview set to air Thursday. "I care if I've done a good job, and I care if I've told the truth.
Article continues below advertisement
"If they didn't want me, they shouldn't have hired me."
Gervais told Morgan that he believes the celebs he roasted do have a sense of humor.
"Comedy is laughing in the face of adversity," Gervais said. "We use comedy as a sword, a shield, as a medicine, as a getting to know you. It's fundamental. It's a fundamental we understand comedy and we have humor, because it's built on empathy, and that's what being human is."
Gervais irritated many in attendance at the show when he said I Love You, Phillip Morris stars Jim Carrey and Ewan McGregor are "two heterosexual actors pretending to be gay -- so, the complete opposite of some famous Scientologists, then."
He said of Robert Downey Jr., "Many of you in this room probably know him from such facilities as the Betty Ford Clinic and Los Angeles County Jail," causing the actor to call Gervais' schtick "hugely mean-spirited with mildly-sinister undertones."