VIDEO: 'House' Actress Lisa Edelstein Stars in Controversial 'Right To Choose' Ad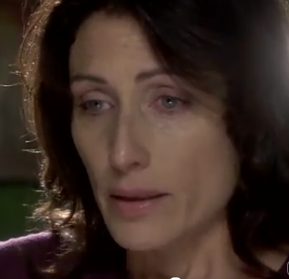 House actress Lisa Edelstein has moved into the political arena as she takes on the G.O.P. in a new 'right to choose' ad made in conjunction with activist group MoveOn.org.
The 43-year-old, who plays Dr. House's love interest, Dr Lisa Cuddy on the Emmy award winning drama, stars in a new 30-second TV ad as a woman who is forced into a "back alley" to undergo a pregnancy termination.
The message is a direct attack on what MoveOn.org claim is the Republican party's assault on women's health and their right to choose.
Article continues below advertisement
The ad opens with Edelstein dressed in 1950s-era clothing walking shakily down a hallway towards a door as you hear her voice saying: "Decades ago, women suffered through horrifying back alley abortions. Or, they used dangerous methods when they had no other recourse."
And it ends with a terrified Edelstein, dressed in modern day clothing, tearfully opening a closet door to reveal a wire clothes hanger, a scene symbolically associated with the dangerous situations women were forced into before they gained reproductive rights.
Edelstein's voice then asks: "Why is the G.O.P. trying to send women back to the back alley?"
The actress, who is an outspoken advocate for women's rights, as well as a volunteer for the Best Friends Animal Society, Save the Children and Planned Parenthood, explained her decision to star in the ad: "I decided to do this ad because I believe that every woman needs to know the grave danger that women's reproductive rights are facing in Congress right now," she said.

"
Article continues below advertisement
I hope that women across America tell Congress that these bills are an attack on women's health and that they are unacceptable."

"
This ad is a wakeup call," said Kat Barr, Campaign Director at MoveOn.org. "If Republican proposals go through, women could once again face fear and danger when it comes to their reproductive health.
Bristol Palin Nixed From Abstinence Panel Following Student Protests
"It's incredibly disappointing that at a time of economic turmoil, instead of focusing on creating jobs, Republicans have instead decided to focus their attention on forcing women back into the back alley."