Gary Shirley And Amber Portwood Planning Valentine's Day Apart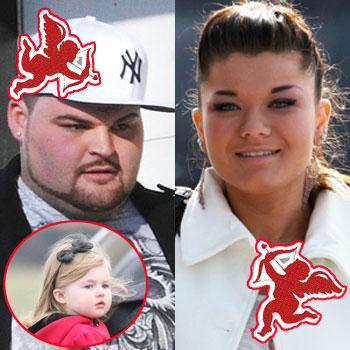 Despite being seen holding hands together recently, Teen Mom stars Gary Shirley and Amber Portwood have no plans to spend Valentine's Day together, RadarOnline.com can reveal.
The couple were spotted walking hand-in-hand outside a court in Indiana last week after a judge allowed them to have contact with one another again, although not in the presence of their daughter Leah.
However, RadarOnline.com has learned that Cupid's arrow has missed the mark today and that a long-term re-union is unlikely now for the MTV reality couple too.
Article continues below advertisement
Shirley - who has been linked with other women recently - hinted all was not well in his latest post on his Facebook account It's Gary Time.
"Well tomorrow is valentines day and i don't have one kinda super depressing....I guess Leah will be mine so thats all i need, but i hope everyone kinda gets what they want with who they have." He wrote. "So for all the singles out there i feel ya...my love isn't interested in me...kinda bummed but well see what happens...Gary Shirley"
RadarOnline.com can reveal that although he hasn't got any romantic rendezvous planned with his ex-love Amber, he will have his daughter Leah to keep him company on Valentine's Day, so it won't be a totally lonely time.
And, Gary hasn't been spending all his time pining on his own lately - in fact he was spotted out with on/off girlfriend Ashley Williamson on Saturday night at some bars on Broad Ripple, Indianapolis.
Article continues below advertisement
Williamson was recently involved in a telephone pestering incident with Portwood with both women claiming that they were being harassed by each other.
A source told RadarOnline.com: "Gary was out with Ashley and some friends on Saturday and although they went to a few bars he was not drinking.
"The truth is he was a little confused because he thought that he and Amber were going to get back together again but that is not going to happen now.
"Something happened but he would not say what it was - the rumor is that Amber could have found somebody else.
"Gary will have to settle for having only his daughter Leah on Valentine's Day and he is now preparing to move on with his life without Amber in it.
"It's too early to say if he will go back with Ashley after everything that has happened but they remain friends for the time being and she thinks he is a nice guy."
Article continues below advertisement
RadarOnline.com broke the story that Portwood told police she received 24 phone calls in a 5 hour span on February 3 and into the early morning hours of February 4.
DOCUMENT: Read Amber's Police Report Here
Police wrote in their report: "While speaking with Ms. Portwood, she advised that she had been receiving phone calls beginning at approximately 11:56 PM last night. The last most recent was at 5:21 AM, right before she called the police.
"She stated that there were 24 phone calls total and she believed that they were from her ex-boyfriend, Gary Shirley. She advised that she knew that it was Gary, due to the fact that she recognized his voice but the phone number was coming in as blocked and private, so it wasn't showing his phone number on her cell phone."
Williamson claimed she was out with friends and did not make the phone calls.
On the 911 call Amber asks police to go to Gary's house.
Amber and Gary just had their no-contact order lifted by a judge last week and it looked like they might be getting back together,
Williamson also went to police recently to report that her tires were slashed. In the police incident report, obtained by RadarOnline.com, Ashley told cops she "believed that Portwood could have been responsible."