EXCLUSIVE VIDEO & PHOTO: Cops Wouldn't Let Shia LaBeouf Drive After Bar Fight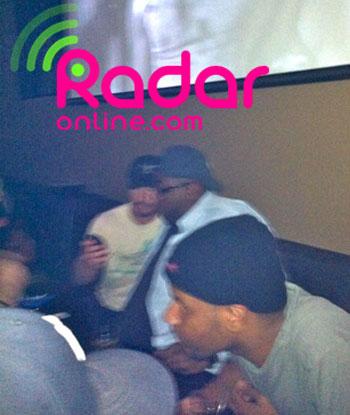 Shia LaBeouf was with several of his friends at Mad Bull's Tavern in Sherman Oaks, CA. late Friday night, and only RadarOnline.com has a photo of the Transformers star at the scene of the fight and exclusive video of cops shooing "an obviously intoxicated" bad boy away from his truck after the altercation.
"He was drinking and hanging out with his pals when I went over and asked if I could take a picture with him," Mark Mastro tells RadarOnline.com exclusively. "I'm a huge fan and just wanted to get a picture. I reached out to shake his hand and called him Mr. LeBeouf."
Article continues below advertisement
But Mastro says the actor blew him off, glared at him and then squeezed his hand so hard it hurt. He said he was there "chillin'" and wanted to be left alone.
Mastro, who was in the tavern with a large group celebrating his sister's birthday, went back to his table and then grabbed a quick shot of LaBeouf "just to have."
Some time later, Mastro and a friend were out on the tavern's front patio -- basically just a fenced off area off the sidewalk -- and Shia walked out.
"My friend said, 'what's up Shia'?" Mastro says. "Shia told him to 'get the f**k out of my way.' He was slurring his words.
"That's when I said to my buddy, 'don't worry, he's just a f**king fa**ot anyway'," Mastro says.
"He turned around, cursed me out, and I started laughing."
Mastro explains that the actor then jumped in his black truck which was parked directly in front of Mad Bull's.
"All of a sudden, he jumped out, and ran back towards the bar. He charged at me! I jumped over the patio fence onto the sidewalk to get away from him. But he kept coming after me.
Article continues below advertisement
"He was getting in my face. He was talking sh*t. He was chest-bumping me."
That's when the bouncer jumped in, Mastro says.
"A bouncer put Shia in a head lock. A cop just happened to be driving by and saw the commotion. He pulled up the bouncer literally handed LeBeouf over to him.
"He wasn't put in handcuffs as some people thought," another eyewitness tells RadarOnline.com. "An officer just held his hands up and over his head. He was kind of pushed onto the patrol car where he was given what looked like a very strong talking to. He was very obviously intoxicated."
LeBeouf's black truck was parked directly in front of the bar, several sources tell RadarOnline.com but the cops wouldn't let him anywhere near it.
EXCLUSIVE: Shia LeBeouf's Bar Fight Started With Gay Slur
"The police told him to leave and sort of pointed him up the street. He started walking away and several of his pals joined him.
"It looked for a minute like there was going to be a flair up, and I saw several of the officers get in the way in case Shia and his buddies had any ideas about returning to the bar or his truck.
Article continues below advertisement
"It was pretty obvious they were not going to let him get in and drive."
The eyewitness says he went back into Mad Bull's and saw that Shia's truck was still parked outside some time later.
Mark Mastro, who landed the self defense punch-hear-round-Hollywood, left the bar at the same time. He was never interviewed by the police.
"The bar has a history of Shia acting up," the eyewitness says. "They were happy to turn him over to the cops and let them deal with him."