EXCLUSIVE INTERVIEW: Tracy Morgan Kept Kidney Transplant A Secret From His Family, Reveals Brother & Mother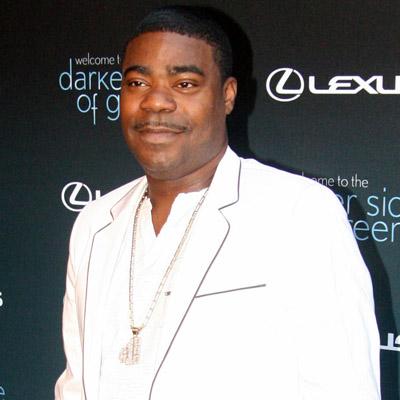 When Tracy Morgan needed a kidney to undergo life-saving surgery in December, he turned to his ex-girlfriend for help, but according to the star's brother and mother, he kept his operation a secret from his family.
In an exclusive interview with RadarOnline.com, James Morgan has spoken out about his sibling's controversial procedure, and the shocking way he found out about the news.
"I've been with him at his home, and he didn't let me know anything," he said, when asked if Tracy ever spoke to him about his need for a new kidney.
Article continues below advertisement
"It was his choice, but he could have got me checked to see if I was compatible. If he would have asked, of course I would have done it. He's my brother.
"Maybe he didn't want to put me through the pain. I don't know what his thinking was," added James, who like his brother also suffers from diabetes.
James said that he was alerted to the surgery after the fact -- and in a rather unconventional way.
"I just found out on the Internet last month that he had the operation. I really didn't believe it. I thought it was just a stunt or something. I thought maybe that's a misprint.
"But he called my mother and confirmed it."
Tracy's mom, Alicia Warden told RadarOnline.com that she was "shocked" to learn of her son's procedure. "He didn't tell me about anything," she said in an exclusive interview. "We never discussed it. He didn't bring it up to me. Someone came and told me they saw it on the Internet, so I was just as shocked."
When asked if she understood his reasons for not alerting the family about it, she said: "I don't know what the reasons are. I really don't know."
Article continues below advertisement
VIDEO: Tina Fey Honored With Mark Twain Prize; Thanks Governor Palin
Tracy -- who is one of five children and is now living a sober life after a long battle with addictions -- had the transplant in December and shocked fans and media by admitting just last week it was his ex, Tanisha Hall, who gave him one of her kidneys, despite the fact he left her for another woman.
And it seems it wasn't just his operation that he kept secret from his family -- his mother also knew nothing about his ex-girlfriend!
"I don't know who Tanisha Hall is," she told RadarOnline.com.
Meanwhile, James says he's grateful that Tanisha went so far in order to save Tracy's life and that he is still pleasantly surprised by such an act of devotion.
"I didn't know that she had done that. It's the first I'm hearing about it," he said. "It's really surprising.
"But that was her choice as well. It was not like he put a gun to her head and said 'you've got to give me a kidney'...obviously they came to an understanding.
Article continues below advertisement
"God bless her, that's all I can say about that. She must really have a genuine love for him, even though they're not together anymore."
James admits that he doesn't talk to his younger brother every day and hopes the reason he kept it from the family was so as not to worry them.
"We don't talk a lot as I have my own family. But I go on tour with him now and then. We know Tracy's personality, so we just know how he does things. So we wait for him to get in touch.
"If it's something life threatening to where he's going to die, then I'm pretty sure (he would tell us). But if he knew that the procedure was going to go smoothly, that's the reason why he didn't want to worry us."
When asked about reports that Tracy has paid Tanisha's medical bills, James quipped: "I would hope so... that's the least you can do!"
RELATED STORIES:
30 Rock Star Tracy Morgan Recovering After Kidney Transplant