EXCLUSIVE: Spencer Pratt To KFC: Move Over Colonel, Here I Come!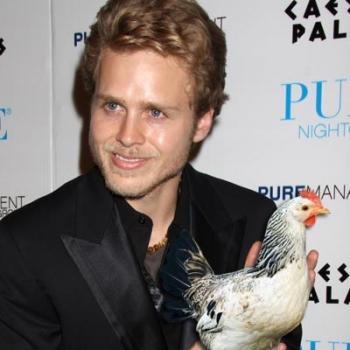 Spencer Pratt's career could soon be taking a fowl turn as RadarOnline.com has exclusively learned that the reality star has set a meeting for next week with KFC to be their chicken rapper!
"Obviously, I would love to collaborate with you guys," Spencer responded to a letter the company sent, asking him to complete his unfinished chicken wings song.
Spencer was originally planning to pitch a song he wrote and performed about chicken wings to the fast food chain, but then shelved the idea after listening to the finished product -- unfortunately however, not before the song was leaked all over the Internet.
Article continues below advertisement
But the 27-year-old aspiring musician has now changed his tune and is taking meeting with the company.
"As you can tell, I'm an avid fan of your company and products, and think this would be a great opportunity for us to make something awesome together," he wrote to a KFC marketing executive.
The company responded enthusiastically stating, "Great to hear you're such a fan of the Colonel," and set up a phone meeting for next week.
According to Spencer, the president of the company had his own suggestion to change the hook of the song to "AIN'T NO THANG LIKE A CHICKEN WING!"
And if the commercial featured the Colonel rapping the verses - Spencer thinks it would make it even better!
Although The Hills star once had designs on taking over the hip-hop world, his finances dictated an end to his aspirations.
Keep your finger lickin' fingers crossed Spencer - this might be your big break!