Exclusive
EXCLUSIVE: Lindsay's Big Lie: Said She Was Never In Jewelry Store When Confronted With Theft Charges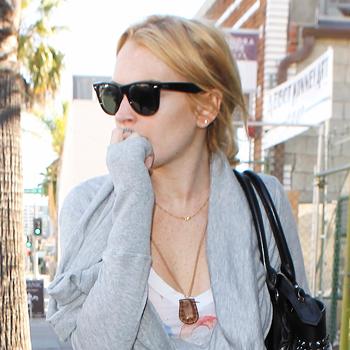 In the moments after RadarOnline.com broke the world exclusive news that the LAPD had obtained a search warrant to look for a stolen necklace in Lindsay Lohan's house, the actress turned to a close adviser and claimed she had never been in the jewelry store which reported the theft.
Lindsay's big lie fell eventually fell apart as more and more information was released, but it still shocked those close to her.
Article continues below advertisement
Now, she's facing felony grand theft charges, which could lead to her probation from her prior DUI case being revoked. The theft charges are expected to be filed this week, possibly as early as Monday.
"Lindsay read RadarOnline.com's story about the necklace and freaked out," a source close to the Mean Girls star told RadarOnline.com. "She couldn't believe that cops had obtained a search warrant for her house.
"She told advisers close to her that she was never in Kamofie & Company, the jewelry store that she allegedly stole the necklace from. When it was pointed out to Lindsay that there was surveillance video of her in the store, the denials stopped."
People close to Lindsay say she has major issues telling the truth, the source told RadarOnline.com. "People in Lindsay's inner circle say she lies all of the time. Some people believe one of the reasons she does is because Lindsay is trying to be a people pleaser."
Article continues below advertisement
Others have a more harsh view and recall that when she was found by cops with cocaine in her pants a few years ago, she told them the pants she was wearing weren't hers!
But the jewelry store lie surprised even those very close to her. After RadarOnline.com broke the story that Lindsay was being investigated for theft, a plan was hatched to get the necklace out of Lindsay's house immediately, and for Lindsay to leave the house and not spend the night there.
Article continues below advertisement