EXCLUSIVE INTERVIEW: Lindsay Lohan Feels 'Beaten Up', Says Director Hoping To Launch Her Comeback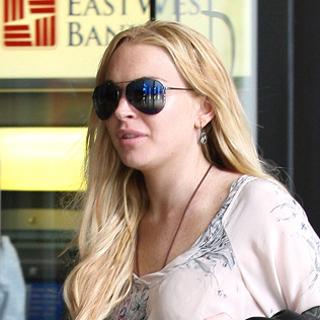 When a judge warned Lindsay Lohan that she is likely facing jail, the troubled star remained calm and collected, but RadarOnline.com has exclusively learned that in reality she feels, "beaten up" and "unhappy" about possible prison time.
In an exclusive interview, director Nathan Folks -- the man hoping to launch her comeback -- says Lohan feels like the victim of a vicious publicity stunt after being accused of stealing a $2,500 necklace, and is determined to come back fighting.
Article continues below advertisement
"She feels beaten up," he told RadarOnline.com. "I spoke with her after court and she was not happy with what happened. She just wanted to get on with her life and Lindsay can't do that until this is all over.
"What this jewelry store has done for publicity, has really got to her."
Folks -- who calls Lohan a good friend -- has cast the actress in her first post-rehab movie, Escaping The Game, and says she is determined to see it through to prove to people she's turned her life around.
"She is clean," he said. "She really wants this to be her comeback, and I want it to be for her. I'm convinced it will be and I will do everything in my power to make it happen.
"We don't know if she is going to jail, so for now the show must go on. In fact she is going to start training this weekend for all the action this movie is going to offer."
And if all goes well, Folks thinks the world has another Angelina Jolie on its hands.
Article continues below advertisement
"Her character is a strong woman. She will play an ex CIA agent, so she has to be tough. There will be lots of action and stunts, and she has to be prepared.
"She will play a role like Angelina Jolie's character in Salt. And lets face it even Angelina went through a rough time in the beginning. She had a very dark time but got these type of roles and managed to turn her life around.
"I believe this is what will happen to Lindsay, and she could be the next Angelina. If Lindsay heard people saying that about her, she would be over the moon. People need to believe in her.
"If she wasn't able to film because she was in jail, of course I would have to recast her. But I'm fighting for her all the way."
Folks is planning to start shooting in August and hopes the film will be released in March 2012.
Lindsay's next court appearance is Thursday, March 10 on her felony grand theft case.
RELATED STORIES:
VIDEO: Barbara Walters Scolds Dina Lohan Over Lindsay -- 'C'mon, Let's Get Real!'