Exclusive
EXCLUSIVE: Lindsay Lohan Complains: Prosecutor Is 'Out To Get Me'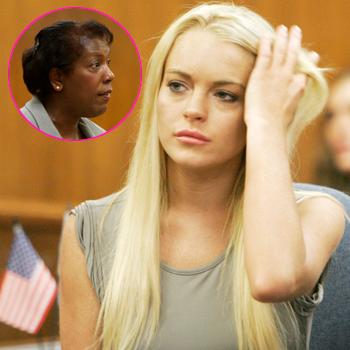 Lindsay Lohan is complaining to friends and family that one particular prosecutor in the District Attorney's office is "out to get me, and is trying to use me so she can get elected," a source close to the Mean Girls star tells RadarOnline.com exclusively.
RadarOnline.com has confirmed that Deputy District Attorney Danette Meyers, who is overseeing Lindsay's probation DUI case, will likely file the felony grand theft complaint against Lohan, 24, sometime this week. The charge relates to the allegation that Lohan stole a $2,500 necklace from a jewelry store in Venice Beach, CA.
Article continues below advertisement
RadarOnline.com was first to report that Lindsay was under investigation and also that should would not be arrested on Monday. Now we've learned it looks like her lawyer has bought her some more time.
Lindsay's attorney, Shawn Chapman Holly, met with Meyers on Monday, and the result is at least another day of freedom -- and maybe more -- for Lindsay.
"Lindsay's fate won't be decided for at least a day or more," one source close to the situation told RadarOnline.com exclusively on Monday. "The case is still under review, and Danette Meyers is still deciding what charges, if any, Lindsay will be facing.
"Lindsay's attorney, Shawn Chapman Holley had a very productive meeting with Meyers. Shawn had to leave town overnight (Monday) for business, and it's unlikely that Danette would charge Lindsay while Shawn was out of town. Shawn will be back in town tomorrow (Tuesday) night."
In an exclusive interview with RadarOnline.com on Monday, Meyers disputed Lindsay's assertion that the D.A.'s office is targeting her, saying:
Article continues below advertisement
"The D.A.'s Office has been fair and compassionate in prosecuting Ms. Lohan on her DUI. The same fairness and justice will be applied in determining whether or not to file charges in the present manner. I think her lawyer would agree with this statement. I believe justice was administered fairly and equitably."
Meyers formally launched her campaign to become District Attorney of Los Angeles late last year, but before Lindsay jumps to conspiracy theories against her, she needs a geography lesson, the insider suggests.
"Because of where the crime took place, it falls under Meyer's jurisdiction. If Lindsay was accusing of stealing that necklace in Malibu or in the Valley, Danette wouldn't be handling the case. Lindsay isn't swayed. She thinks that Meyers is out to get her and has been since 2007," the source told us.
"Lindsay has no idea the amount of trouble she is in now. The surveillance video is going to be the strongest evidence against her," the source adds.
Article continues below advertisement
"Just because the necklace was returned to cops, and the search warrant wasn't executed didn't compromise the case at all. Lindsay is looking at a felony grand theft charge, which would carry a three year sentence to state prison. Meyers doesn't mess around when it comes to felony charges, and she's unimpressed with Lindsay's celebrity status. She doesn't treat defendants differently because of someone's background," the source says.
Another source close to the situation tells us, "Lindsay's probation officer will be notified immediately when she is charged. Likewise, Judge Elden Fox will also be notified. It's extremely likely that Judge Fox will immediately revoke her probation again, and schedule another probation violation hearing."
Once Lindsay is charged with felony grand theft, she will have to formally surrender, and an arraignment date will be set.