Exclusive
EXCLUSIVE: Lindsay Lohan Buys More Freedom After Her Lawyer Meets With Prosecutor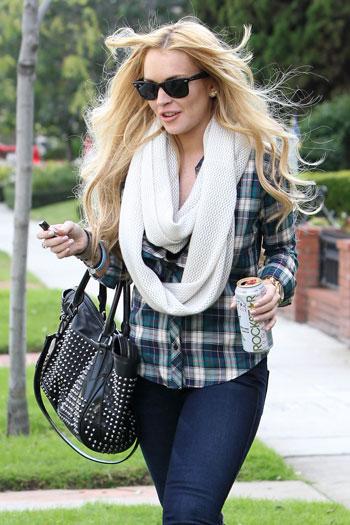 Don't slap those handcuffs on Lindsay Lohan just yet.
Lindsay's attorney Shawn Chapman Holly met with prosecutor Danette Meyers on Monday and the result is at least another day of freedom -- and maybe more -- for Lindsay, sources close to the situation told RadarOnline.com exclusively.
Lindsay is being investigated for grand theft and is accused of stealing a $2,500 necklace from a Venice, California boutique. Erroneous reports during the weekend said she would be arrested Monday.
Article continues below advertisement
RadarOnline.com was first to report that Lindsay was under investigation and also that should would not be arrested Monday. Now we've learned it looks like her lawyer has bought her some more time.
"Lindsay's fate won't be decided for at least a day or more," one source close to the situation told RadarOnline.com exclusively. "The case is still under review, and Danette Meyers is still deciding what charges if any Lindsay will be facing.
"Lindsay's attorney, Shawn Chapman Holley had a very productive meeting with Meyers. Shawn had to leave town overnight (Monday) for business, and it's unlikely that Danette would charge Lindsay while Shawn was out of town. Shawn will be back in town tomorrow (Tuesday) night."
It's even possible that Lohan's powerhouse attorney was able to sway Meyers into NOT charging Lindsay. "Lindsay has a legit explanation, she was loaned the necklace, this happens all the time in the celebrity world," a source told RadarOnline.com.
Article continues below advertisement
"Remember, Shawn was part of the 'Dream Team' that got O.J. Simpson acquitted of murder charges. Shawn is tops in what she does. If there is anyone that can get Lindsay out of this mess, it's Shawn," another source said.
Shawn Chapman Holley issued a statement during the weekend about the theft allegations against her client, "We vehemently deny these allegations and, if charges are filed, we will fight them in court, not in the press."