EXCLUSIVE INTERVIEW: NYC House Husband Simon Promises 'No Screaming Drama of the Housewives' On His New Web Show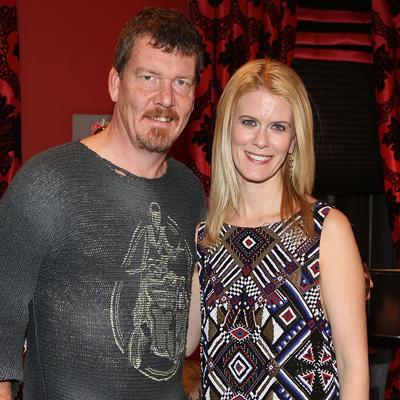 The house husband everyone loves to hate -- Simon Van Kempen -- will soon have his own reality show to showcase his quirky clothes and eccentric personality.
New York City Housewives star Alex McCord's hubby is getting his own web spin-off set to begin airing this spring.
And this time the close couple is filming separately, and it's all about Simon and his family's Brooklyn lifestyle.
"There's no screaming drama of the Housewives," Simon told RadarOnline.com exclusively. "This is the everyday real stuff... because we are now known, people have been interested in how do we maintain such a strong relationship, how do they bring up two kids?
Article continues below advertisement
"People have Tweeted me and Alex saying, 'we'd love to see you with the children more.'
So Bravo is taking the fan enthusiasm to heart, and approached Simon about creating his own webisode series last month.
The three to five-minute clips of the father-of-two's daily life will be all about family bonding -- and shopping, Simon's way, of course! (Remember his infamous red patent leather pants?)
"It's me going shopping in the neighborhood, going food shopping, clothes shopping," he said. "We filmed an episode with the children when Alex was away on business. You see me waking up with the boys and being a single dad for a few days."
Some snippets may even be so good they could be plucked from the web and onto the small screen for the hit Bravo reality show.
"What you'll see in these webisodes is my normal yet quirky life. It's all real, there's no constraint. I'm out to dinner with the boys -- and taking 5 and 7 year-old-boys out to dinner to a restaurant that isn't a kids' restaurant can be a challenge," he laughed. "Who knows what will happen in that scenario.
Article continues below advertisement
"You'll see me cook, you'll see the boys cook. These are meant to be lighthearted, fun and entertaining. You can laugh with us or at us. I don't care as long as you're laughing."
The webisodes will air during the upcoming season 4 of the Real Housewives of New York City which premieres February 15th, on Bravotv.com.
RELATED STORIES:
EXCLUSIVE INTERVIEW: NY Real Housewife Claims She Would Never Do A Sex Tape