EXCLUSIVE INTERVIEW: Ellen DeGeneres Stalker Obsessed With Hillary Clinton, Says Ex-Husband & Daughter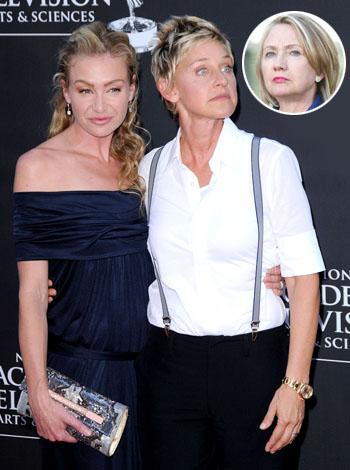 The woman arrested outside Ellen and Portia DeGeneres' home last week is a "delusional conspiracy theorist" who had an unhealthy obsession with Secretary of State Hillary Clinton, her daughter and ex-husband told RadarOnline.com in exclusive interviews.
Karen Grace Sjoden was found with a "rambling letter" that referenced the former First Lady and a dossier of the names and addresses of Hollywood's elite when was she arrested "laying in wait" under cushions on the DeGeneres' kitchen deck, prosecutors charged in court.
Article continues below advertisement
In revealing interviews, Sjoden's daughter Kayle and ex-husband George Macke admitted their estranged mother/ex-wife previously pursued Clinton and Ellen, but denied she ever had sinister motives.
"It doesn't surprise me about Ellen DeGeneres because she's mentioned people in her conspiracy theories before," Kayla told RadarOnline.com.
Stars Who Have Battled Eating Disorders
"She's mentioned that she knows Ellen DeGeneres and she's mentioned Hilary Clinton before.
"No one took it seriously because she was never a harm to anybody. Now, it's obvious that she needs treatment, for her mental issues.
"She said nothing bad about Ellen and Hillary... just that she has connections with them and they can help her out."
The one-way courtship -- which included previous attempts, according to her family -- ended with Sjoden's February 10 arrest at DeGeneres' two-house compound which she shares with her wife, Portia.
Article continues below advertisement
Sjoden, 49, insisted she was working as a private investigator, as she stood cuffed before a Beverly Hills judge on Monday, who remanded her in custody and set bail at $200,000 on a misdemeanor trespassing charge.
"This is a set up," Sjoden told Judge Marsha Revel, before ranting that she was working as a private eye for an investigation firm titled Blue Moon, monitoring traffic to and from Ellen's mansion.
A spokesperson for Blue Moon, an organization based in Texas, told RadarOnline.com that Sjoden had never worked for them.
Macke, who was married to Sjoden until their divorce in 1998, said the woman is suffering from mental illness.
"It's certainly not treated," the ex said.
"The diagnosis has been some time ago... she was accusing me of all sorts of things that I knew never happened and I knew it would never get any better."
Article continues below advertisement
Sjoden, a drifter who hitchhikes around the country, had been living with an aunt in Los Angeles since relocating from Texas.
She was arrested at 5am on DeGeneres and de Rossi's property, but was asked to leave after first being spotted around 3am -- but she returned soon after and was quickly detained.
Cops found a letter referencing Clinton, Dolph Lundgren, Warren Buffet, telepathy and aliens.
"I would say these are her delusions," said Kayla, who hasn't heard from her mom in a couple weeks.
"But she's always been positive when she's talked about these people."
Kayla said her mother's illness progressively worsened after divorcing her father.
"My aunt and I tried to help her but every time we try she has run away because she doesn't think she's crazy," her daughter said.
"She's very convincing with what she believes.
"For her, it's not a lie... even for me it was hard to understand that she was crazy and all this was her conspiracy theories she believes are true."
Article continues below advertisement
Kayla said she wanted the talk show host to understand her mom meant her know physical harm.
She said: "If I could talk to her, I would say she would be no harm... For her to seek out to try to meet is just a form of flattery, she admired her and thought she was a good person.
"My mother doesn't want to inflict harm, she's not out to try to damage her, damage her property or kill her."
RELATED STORIES: