EXCLUSIVE: Steven Seagal Gets Permanent Restraining Order Against Stalker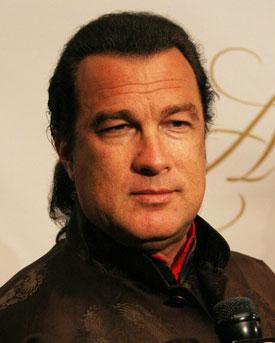 A judge in Santa Monica, California has imposed a permanent restraining order against a woman accused of stalking action star Steven Seagal, RadarOnline.com has learned.
Seagal, star of such films as Under Seige and Above The Law, had asked the court to extend his temporary restraining order (TRO) already imposed against Angela Rain Bates, and on Wednesday, the judge agreed.
EXCLUSIVE: Steven Seagal Sued For Sexual Harassment And Sexual Trafficking
Article continues below advertisement
Under the permanent restraining order, Bates is required to stay away from the actor until August 17, 2013.
In court docs, Seagal alleged that Bates, 55, had assaulted a groundskeeper when she came to the actor's house uninvited on July 14. Bates also allegedly threw rocks at Seagal's windows.
After the incident, Bates was charged with battery, vandalism, and trespassing, all of which are misdemeanors. She's pleaded not guilty to the charges, and remains in jail until her next court appearance.
Seagal wasn't in court Wednesday when the judge granted his request to extend the order.
As for Bates, she remains in custody at the Lynwood Detention Center.