Exclusive
EXCLUSIVE INTERVIEW: Dawn Holland Wins Key Ruling From Insurance Company, Still May Sue Lindsay, Says Lawyer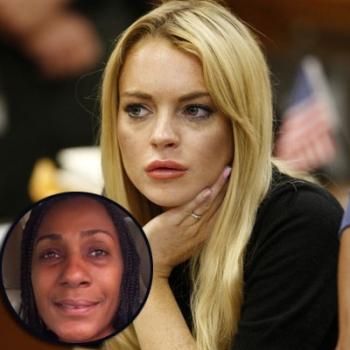 A insurance firm has found that fired Betty Ford Center worker Dawn Holland "was not the aggressor" in her bust-up with Lindsay Lohan, RadarOnline.com is reporting exclusively.
Holland's lawyer Owen Latham McIntosh broke the news to RadarOnline.com exclusively and has won the important battle of getting his client's temporary disability benefits re-instated by Betty Ford after she was fired following the incident at the famous rehab in December, 2010.
Article continues below advertisement
McIntosh also tells RadarOnline.com that he has not ruled out a civil lawsuit against Lindsay.
"I can confirm that Betty Ford's insurance carrier Sedgewick CMS found out in their investigation that my client was 'not the aggressor' during the incident and that it did take place under the 'course and scope' of her employment at the center," McIntosh told RadarOnline.com.
"She is now going to get her disability re-instated in around two weeks time – she will be entitled to two-thirds of her weekly income based on her average weekly earnings each year.
"My client's physician has already signed-off that she is temporarily disabled at the moment and therefore eligible for her benefits – I think that Betty Ford were inconsiderate to turn their backs on her.
"We have still not heard anything back from the Riverside District Attorney's Office with regard to my client or any case they may or may not decide to pursue against her.
"Several issues remain to be considered before we decide to file any civil suit on my client's behalf and although we have not filed anything yet it is not something we have ruled out either.
Article continues below advertisement
"Obviously, Dawn Holland is very pleased about these latest developments in her case and with the findings of the insurance company."
Holland claimed she was injured after Lindsay attacked her at the Betty Ford Center when the actress returned late one night.
RadarOnline.com broke the story that Michael Lohan offered $25,000 to Holland after the worker refused to cooperate with the police investigation against Lindsay. We also reported exclusively that the prosecutor handling the case suspects Holland stopped cooperating with investigators because of a potential payoff.