Exclusive
EXCLUSIVE: Halle Berry's Jealous Rage Over Girlfriend Started Custody Battle, Says Source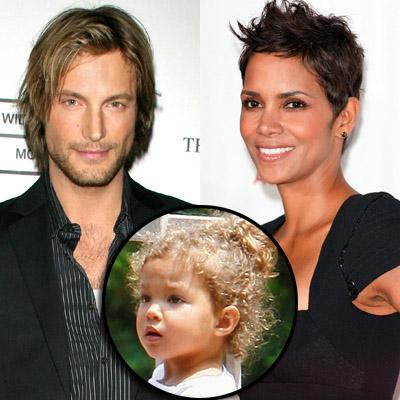 Choose between your girlfriend and your daughter!
That's the ultimatum Halle Berry threw at her Baby Daddy, model Gabriel Aubry when he began dating a high-profile TV star, a source familiar with the situation tells RadarOnline.com exclusively.
It was the beginning of a custody dispute that is now headed for court after Halle released as statement Monday claiming she will fight for custody of her daughter as she "has serious concerns for her daughter's well-being while in the care of her father for any extended period of time and is prepared to take all necessary steps to protect her."
Article continues below advertisement
But Berry, 44, is also driven by jealousy and a desire to control her ex-boyfriend, the source close to the situation claims.
Aubrey, 35, believe Berry is using two-year-old Nahla as a "pawn," while trying to control him.
"The real trouble started last year when Gabriel started dating a high profile reality TV star," the source tells RadarOnline.com. "Halle totally lost it with Gabriel and gave him an ultimatum - to choose between dating this girl or having a relationship with his daughter.
"Gabriel was furious. Halle has absolutely no right to tell him who he can and can't date, especially when you consider she's already moved on herself and is dating Olivier Martinez, but even worse in his mind, was her willingness to dangle their daughter in front of him as bait to make him do what she demands.
"The problem was that they had no legal custody agreement in place so he was pretty much at her mercy as to when he got to see their daughter. So, he did what she wanted - he broke it off with the girl - but then he started legal proceedings to set up his custody rights so Halle couldn't pull that crap on him again.
Article continues below advertisement
"Well, that totally tipped her over the edge, now the gloves are well and truly off.
"Gabriel has suspected for a while that Halle is having him followed by a PI, and now she's coming out with all this bull about how she's worried about Nahla's 'well being' while she's in Gabriel's care.
"It's absolute trash talk - Gabriel is an amazing father, and he's hardly party central - the guy is bordering on one of the most boring, regular people I know!
"This is all about Halle not being able to control and manipulate Gabriel, therefore she's hitting him where she knows it will hurt most - holding his daughter away from him."
RadarOnline.com was the first to report on the couple's split last April and then to report that things were turning nasty despite other outlets' reports to the contrary.
Halle, according to the source, has threatened several times to keep Nahla away from Gabriel.
Article continues below advertisement
"That's been her MO since they split, anytime she got angry at him the first thing she would threaten would be him not being able to see Nahla," the source said.
And as RadarOnline.com previously reported, Gabriel has voice mails and emails from Halle that do NOT show her in a flattering way – and he will use them.
"If she's not careful though this could backfire right in her face. Gabriel has a whole load of crazy emails and voicemails from her that show the truth about what she's like and prove what a control freak manipulator she is," the source said.
"Put it this way - Gabriel will do anything and everything to keep his daughter in his life. He loves her more than life itself and he will move heaven and earth to ensure she's safe, balanced and happy."
As RadarOnline.com previously reported the Canadian born model has already consulted attorneys in both Canada (where Nahla has duel citizenship) and California, and is now planning on pursuing sole custody, something that was never his intention when he first initiated legal proceedings.