Exclusive
EXCLUSIVE: Halle Berry's Screaming Fits At Ex Gabriel Aubrey, He Believes She's Hired PI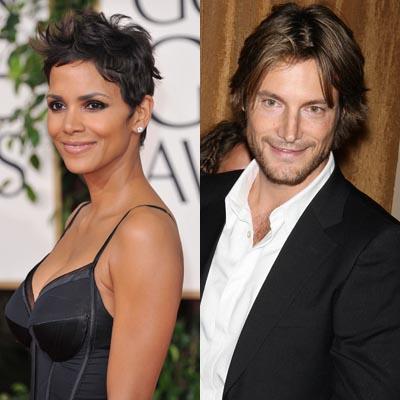 Don't believe all those reports that everything is peachy between ex-couple Gabriel Aubry and Halle Berry -- the reality is far from it.
A source tells RadarOnline.com exclusively that Gabriel has been subjected to a number of nasty screaming fits by the Monsters Ball star, along with a number of angry meltdowns, and even believes that Halle has hired a private investigator to tail him.
The situation has gotten so bad that Gabriel felt "forced" to file a petition on December 30 for custody of their two-year-old daughter Nahla, to ensure his legal rights to visitation, something, the source says, the Canadian born model is anxious to establish.
Article continues below advertisement
"Basically whenever Gabriel doesn't do exactly what Halle tells him to do, or if he does something she doesn't approve of or like, she goes crazy on him, screaming and shouting," the source says.
"Contrary to public perception Halle has a particularly nasty temper, and she can be really controlling and vindictive.
"I've been with him when he's gotten these insane calls from Halle -- with her screaming at him and going crazy, when the poor guy hasn't done anything!"
The source says the couple's troubles really came to a head towards the end of last year when Gabriel started dating other women. He was photographed out in public on dates and a number of magazines ran stories about him dating and enjoying the single life.
"Halle was absolutely furious and had a complete melt-down. She basically gave him an ultimatum -- to choose between dating other women and carrying on being on her good side.
Article continues below advertisement
"She was particularly angry that he had been so public, even going to a Lakers game one time, and she totally berated him, basically telling him that if he has to date, just date a nobody waitress that nobody will care about.'
"Gabriel is one of the most laid-back, nicest guys that I know, but in the end he just got sick of being bossed around and told what to do by his ex-girlfriend."
The source says that Gabriel is keen to legally establish his visitation and custody rights to ensure his future relationship with his daughter - and then move on with his life.
But, although Gabriel has filed for legal custody he has no desire, or intention, to try to take Nahla away from her mother.
In fact, despite his troubles with Halle he still maintains that she's a good mother. He just wants to ensure he's able to carry on being a good father.
"At the end of the day Gabriel's just sick of being told who he can and can't date by Halle, and he's had enough of it," the source says.
Article continues below advertisement
"It's like completely hypocritical as well as she has been dating Olivier Martinez since last summer.
"But when Gabriel brought that up to her he said that she insisted it was different and that her relationship with Olivier was purely for business purposes.
"The situation is completely crazy."
And according to the source things could soon get even nastier -- and crazier.
"Gabriel told me that he believes Halle is having him tailed by a private investigator, and trust me, he's not just some paranoid dude with a wild imagination.
"He said he's noticed a car following him a few times now and that he's just got this weird feeling that he can't shake of being watched.
"Judging by Halle's past actions and threats it wouldn't surprise me, if Gabriel doesn't follow her rules she's going to fight nasty.
"But, if she thinks a PI is going to dig up anything salacious or scandalous I think she'll be sorely disappointed. Gabriel's one of the straightest, nicest, bordering on boring guys I know."
Article continues below advertisement
Meanwhile, you can expect Team Berry to go into PR overdrive when it comes to reports of troubles between the two, or of any bad behavior on the 44-year-old's behalf.
Halle is very protective of her image and those around her have already gone to great lengths to say that everything is great between her and Gabriel, often twisting the truth to portray Halle in a better light.
In fact, last year when RadarOnline.com exclusively reported that Gabriel had ended the couple's five year relationship, a "source close to Halle" quickly fired back, claiming that SHE had in fact ended the romance months before it was announced, "kicking him out because he wasn't able to pull his weight in the relationship" and that "she wanted to move on."