Exclusive
EXCLUSIVE: Michael Jackson's Ex-Lawyer Considering Asking Judge To Remove Dr Conrad Murray's New Attorney From Case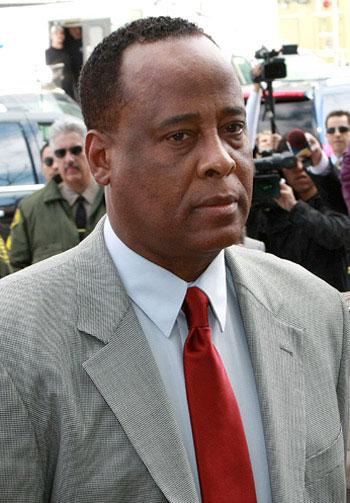 The lawyer who helped win Michael Jackson's acquittal on child molestation charges is considering asking a Los Angeles judge to stop another attorney from being added to the legal team of the pop star's former doctor, who is facing charges of involuntary manslaughter.
Nareg Gourjian is joining forces with Conrad Murray's lawyers Ed Chernoff and Michael Flanagan, who are preparing to defend the doctor at trial, beginning on March 24.
Article continues below advertisement
Gourjian is a former of associate of Mark Geragos, a lawyer known for high-profile criminal cases, including Chris Brown's domestic violence charge and the trial of Scott Peterson, who was convicted of killing his wife.
Herein lies the problem, as RadarOnline.com has learned.
Gourijian was also an associate of Geragos' law firm and worked on Jackson's successful defense during the late singer's infamous 2005 trial, where he stood accused of seven counts of child molestation and two counts of administering an intoxicating agent to a 13-year-old male.
Gregaros is so concerned that a former member of his team, who was privy to the King of Pop's personal information, is now working to defend the man accused of killing him.
"Mark is concerned about the conflict of interest because Nareg worked on Michael's molestation defense," the source told RadarOnline.com.
"Nareg was privy to details about Michael Jackson's life that were never made public.
"This is very, very bothersome to Geragos.
Article continues below advertisement
"Mark is considering filing paperwork with Los Angeles Superior Court Judge Michael E. Pastor stating he believes there is an obvious conflict of interest.
"Nareg knows that Mark is concerned about this."
Murray is accused of responsibility for the pop icon's death on June 25, 2009 by administering an overdose of the powerful sedative Propofol, with which Jackson was being treated to help him to sleep.
There is a pretrial hearing in Dr. Conrad Murray's case this afternoon, but the embattled doctor won't be there.
Geragos could appear in person at the hearing to detail his concerns to Judge Pastor.
RELATED STORIES:
Judge To Hear Debate Over Televising Conrad Murray Trial
Prosecutors Claim Michael Jackson's Doc Delayed Calling 911