Exclusive
EXCLUSIVE: Dog The Bounty Hunter's Daughter Files For Divorce After Husband Gets Violent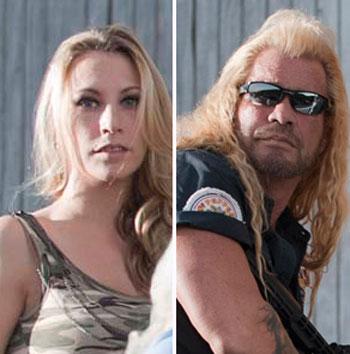 Duane 'Dog the Bounty Hunter' Chapman's daughter Lyssa has filed for divorce after her husband was violent with her on multiple occasions, RadarOnline.com has learned exclusively.
Known as "Baby Lyssa," Dog's daughter filed divorce papers in Hawaii on February 1, one day before Dog's birthday.
She kicked out her husband, Bo Galanti, and he has not been served yet, RadarOnline.com learned.
It marks the end of a marriage that didn't last two years and had become a nightmare for Lyssa who was physically abused several times by Bo.
Article continues below advertisement
When reached for comment by RadarOnline.com, Dog's wife Beth Chapman confirmed that the story is true. "She's in an abusive relationship and he's got to go," Beth told RadarOnline.com.
One time last year Bo got physically abusive with Lyssa and she ran across the street to her father and Beth's house in the middle of the night, RadarOnline.com learned. When Dog was told what was going on he told Bo he was going to kick his butt but Bo took off, a source close to the show told us.
"Lyssa is afraid Dog will kick his butt and end up in jail," the source said. "Dog told him, 'If you ever touch my daughter again, you've got a big problem.'"
The source told RadarOnline.com that Bo got violent with Lyssa on New Years Eve 2010, a couple of months later, a few months after that and then after a concert.
"She kicked him out of the house in October but he came back," the source said. "She's kicked him out a few times. He's gone now.
MORE ON:
Dog The Bounty Hunter
Article continues below advertisement
"He hurt her back. Gave her bruises, contusions and a black eye."
But Lyssa didn't want to tell the police about the abuse because at the time she didn't want it in the press. Everyone in her family who knew about it, though, wanted to go after Bo, according to the source.
"She was confused," the source said. "But then they went to counseling a few times. Even the counselor told her to get out of the marriage."