EXCLUSIVE: Charlie Sheen's Porn Star Girlfriend Bree Olson Suggests He's Clean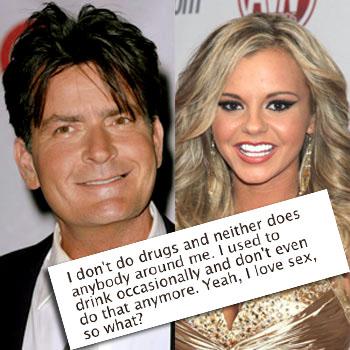 Charlie Sheen's porn star girlfriend Bree Olson has defended the Two and a Half Men star by suggesting that he, like herself, does not do drugs, RadarOnline.com is reporting.
Olson wrote on Twitter Friday morning: "I don't do drugs and neither does anybody around me. I used to drink occasionally and don't even do that anymore. Yeah, I love sex, so what?"
And these claims were backed by Olson's former colleague Katy Zvolerin -- from the X-rated North Carolina company Adam & Eve -- who believes that Olson is acting as Sheen's care-taker at the moment and not par-taking in any drug or alcohol abuse with the star.
Article continues below advertisement
Sheen has been left teetering on the brink after CBS suspended production on Two and a Half Men following his bizarre rants on The Alex Jones syndicated show on Thursday.
Many observers believe that the troubled star may have been under the influence when he went on his egotistical rant which effectively led to CBS pulling the plug on Two and a Half Men.
Zvolerin told RadarOnline.com: "Despite the fact that she is a porn star, Bree is actually very clean living. I never heard or saw her take any drugs while we worked together.
"She frowned upon drug use in fact and rarely ever took alcohol. She never lost control and wouldn't want to be around people who had lost control either.
"Despite coming from a tough background, Bree does have a nurturing side, and I could see her acting as a care-taker for Charlie Sheen right now.
"In fact Bree recently became a Vegan and regularly donated money to ASPCA (American Society For Prevention of Cruelty to Animals), so, she definitely has a softer side."
Article continues below advertisement
Before Thursday's dramatic developments Sheen jetted off to a tropical island with Olson and new flame Natalie Kenly; his estranged wife Brooke Mueller joined him for part of the trip before bailing on him.
Despite her healthy lifestyle, Zvolerin believes that Olson would have been up for anything sexually with Sheen and the two other women if they were agreeable.
She told RadarOnline.com: "Bree is a very dirty girl. She would be willing to have sex with everyone going on their vacation.
"Bree loves women as well as men, so, I'm sure she would be up for anything with Charlie and the other two women.
"Maybe Charlie Sheen's fans want to live vicariously through him with her X-rated movies."
Perhaps not surprisingly, since Olson hooked-up with Sheen, sales of her DVD's with Adam & Eve have gone up. She worked for the company for three years and her 'do anything sexually attitude' made her very popular with porn fans.
Article continues below advertisement
Executive Zvolerin previously told RadarOnline.com about Olson's troubled past which included time at a juvenile facility when she was a teenager.
She thinks that these struggles have hardened Olson whom she describes as a "highly ambitious" individual.
And she believes that Sheen should watch his back because she would not be surprised if photographs or X-rated video emerged from the bizarre tropical holiday involving the actor and the other women.
Zvolerin added: "Bree knows how to look after herself and she tests regularly for stds and stuff like that.
"It would be a huge coup if any video or images came-out from the holiday and would obviously be worth a lot of money.
"I actually liked Bree a lot, but she could be a little scrappy when she had to be and was one of those girls who could definitely look after herself. She is a very ambitious person now."