EXCLUSIVE FIRST PHOTOS: Countess LuAnn Guest Stars On Law and Order: SVU, Says 'Keeping My Sheet In Place' Was Challenge In Nude Scene!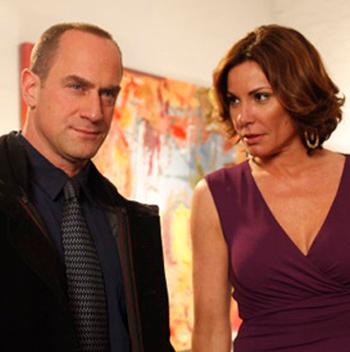 For years, we've seen Countess LuAnn De Lesseps mix it up with New York's elite such as Ramona Singer, Jill Zarin and Bethenny Frankel; now she's gets to mix it up with two of New York's finest: Stabler & Benson.
EXCLUSIVE FIRST PHOTOS: Countess LuAnn On Law And Order: SVU
Yes, the woman who's resonated class, refinement and elegance on the Real Housewives Of New York will be making a special appearance on NBC's ratings juggernaut Law & Order: SVU -- and RadarOnline.com has the exclusive first photos from the set.
Article continues below advertisement
"It was such an honor to work with such great actors," she told us exclusively of her experiences working with TV stars Chris Meloni and Mariska Hargitay.
"They were very supportive of me and made me feel comfortable.
"I enjoyed it. It was a challenge for me. It's about remembering your lines and standing in the right spot -- at the same time holding on to my sheet!"
In the episode, Countess LuAnn's http://luanndelesseps.com aptly cast as a highbrow art collector who has a thing for the artist -- even posing nude for her love interest in one of the scenes.
"It was really fun for me to do scripted from reality," she said, adding the nude scene was tastefully done.
In between filming for Real Housewives of New York City, the Countess actually had only two days to remember her lines, but her longtime beau Jacques Azoulay rehearsed with her.
"I didn't have much time to work on it, so he read lines with me and was very helpful. He said, 'Say it like this, relax,'" she said.
Article continues below advertisement
Countess LuAnn told us she was the one signing autographs on set.
"A lot of the people working on the show are fans of the housewives," she said.
"They found a photo online and they kept bringing pictures for me to autographs to my dressing room. They were big fans of mine, so that was very cool for me."
She said she'd love to be on Modern Family, 30 Rock or Glee.
"I'm going to ask Ryan Murphy to reach out to me, because I love Glee. I love to sing ... I would love to play myself and sing my new dance single!"
She said she's also been offered a guest spot on a new USA Network pilot.
"My character checks in the hotel and getting out of a grand car with three dogs with me and apparently, the dogs are staying at the hotel, not me. Very Countess-like," she laughs.
So let's ask the million dollar question: Will the Countess make the transition to scripted from reality TV?
"You never know!" she said. "I would definitely consider it. I love acting and the scripted too. I love doing reality, but scripted is just another avenue for me that I would love to explore more."