Halle Berry Says Daughter Nahla 'Is Black'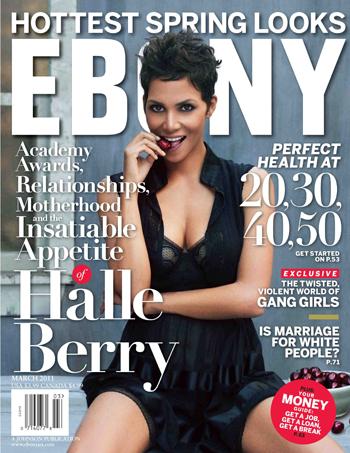 Halle Berry says she considers her three-year-old daughter Nahla, who is at the center of a bitter custody battle with babby daddy Gabriel Aubry, to be black.
"I feel like she's black... I'm black and I'm her mother and I believe in the one-drop theory," Berry tells the March issue of EBONY Magazine.
The one-drop theory -- or one-drop rule -- held, during segregation, that a person with even one drop of non-white ancestry should be classified as "colored".
Article continues below advertisement
Berry has a Caucasian mother and an African American father while Aubry, on the other hand, is French Canadian.
"I had to decide for myself and that's what she's going to have to decide - how she identifies herself in the world," Berry tells EBONY.
"And I think, largely, that will be based on how the world identifies her. That's how I identified myself. But I feel like she's black."
The 44-year-old also gushed about the wonders of motherhood, decribing it as "probably the most important thing in my life right now."
"Career is important, but nothing really supersedes my roles as a mother. That's the most important thing I'm going to do in this life at this point," said the Monster's Ball actress.
Halle and Gabriel are currently embroiled in a heated custody battle over their two-and-a-half-year-old daughter, Nahla.
As RadarOnline.com exclusively reported the relationship between the ex-couple has deteriorated so much over the past week that they are no longer even on speaking terms.
Article continues below advertisement
"If Gabriel needs to find out anything about Nahla he goes through the nanny now," a source told RadarOnline.com.
"He and Halle are no longer speaking directly to each other.
"There were still talking, albeit limitedly, up until a week or so ago, but now - nothing."
The source added Gabriel is concerned that Halle will request that all his visits with their daughter be supervised after various reports have claimed that Aubrey used the 'N' word in describing Halle.