VIDEO: Woman Has 200 Pairs Of Shoes (And Counting) On TLC's My Strange Addiction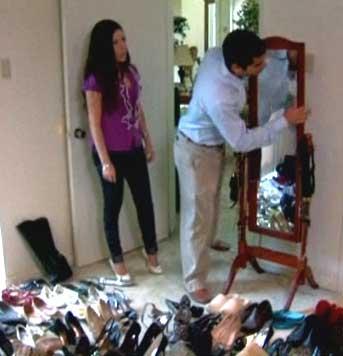 Meet Rebecca -- a woman who would make shoe lovin' Carrie Bradshaw green with envy.
Watch the video on RadarOnline.com
The 27-year-old brunette's love of shoes -- a $45,000 collection spanning more than 200 pairs -- was chronicled on Wednesday's edition of My Strange Addiction, the 12-part series from TLC which chronicles individuals whose habits border on the freakishly bizarre.
"When you are feeling the right pair of heels your feeling powerful," Rebecca said, comparing herself to a superhero donning a cape. "It's a euphoric adrenaline rush, there's nothing like it."
Article continues below advertisement
In another instance from the episode, Rebecca said -- with a straight face -- that she believed her shoes "have feelings, so if I don't wear them, or if I ignore them, I believe I hurt their feelings."
Later on, we learn that Rebecca's shopping is putting her pending wedding at risk, as she's unable to save up for the big day because of -- you guessed it, shoes.
Fun fact: Imelda Marcos, the widow of former Philippines dictator Ferdinand Marcos, owned 3,000 pairs of shoes at one point during the 80s.