VIDEO: Fallen Friend Honored On Sarah Palin's Alaska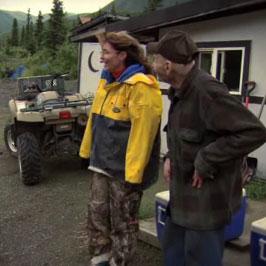 Sarah Palin's Alaska Sunday showcased pop culture's most prominent politician enjoying the surroundings of her home state, as she went whitewater rafting, panned for gold, served customers at the pie shop she used to work at in college and visited a kennel full of sledding dogs.
Watch the video on RadarOnline.com
While Kate Gosselin's annoyance with roughing it stole the show last week, this week's standout guest was Palin family friend Gerald "Bones" Groff, a veteran miner who oversaw "a Palin family tradition" -- panning for gold.
Article continues below advertisement
According to Sarah, Bones gave her some of the beautiful gold jewelry pieces she wore during her vice presidential run in 2008.
"Sarah's like a sister to me," Bones said. "Only a little younger."
Sadly, we learned that after the episode was filmed, Bones passed away at the age of 75.
"This footage is very significant to the Palins," TLC said in a statement. "These moments are the family's final memories with him."