VIDEO: Oprah Reveals Depression Sent Her Into 'Mac And Cheese Eating Tailspin'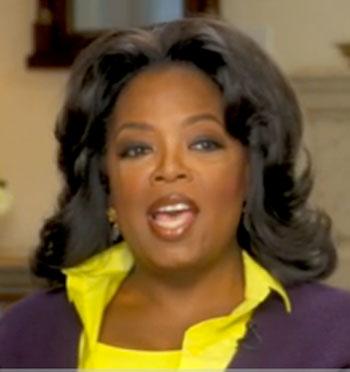 Oprah Winfrey is talking about the only time in her life she has suffered from depression - revealing the episode sent her into "a massive mac and cheese eating tailspin."
The talk show titan opens up to CNN's Piers Morgan, and RadarOnline.com can bring you a clip from the revealing interview.
The 56-year-old billionaire shares that she believes her biggest failure to date was the 1998 movie adaptation of Toni Morrison's Beloved, which she produced and starred in.
Article continues below advertisement
Oprah says it was a project that: "I had, and still have such a passion for."
Oprah Revealed As First Guest On Piers Morgan Tonight
She says she had no idea of how the movie business worked, but was made aware that the movie was a massive flop when she was informed the day after the opening that they had been beaten at the box office by "a movie called Chucky."
As candid as ever, Oprah reveals that she immediately called her chef and asked him to make her some mac and cheese - going on to confess that: "I ate about 30lbs worth....I'm not kidding."
It was, she told Morgan: "The only time in my life I was ever depressed. And I recognized, 'I am depressed'...where you feel like you're behind a veil."
Oprah also told Morgan the lesson she learned from the depression - namely that: "If you get the lesson you don't have to repeat that again."
The interview will air, in it's entirety, on Piers Morgan Tonight, on CNN January 17 at 9pm ET.
RELATED STORIES: