Tale Of The Tape - Sandra Bullock Vs. Kat Von D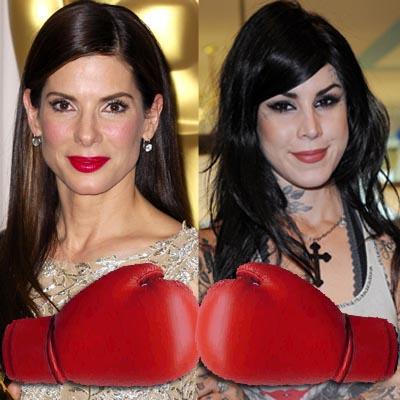 At first glance Oscar winning A-lister, Sandra Bullock and heavily-tattooed reality star, Kat Von D don't seem to have too much in common. But there's one uniting factor between the two -- West Coast Choppers owner and renown bad boy, Jesse James.
In light of the recent announcement of Jesse and Kat's engagement, RadarOnline.com takes a look at the ex and the future Mrs. James, to see how the two weigh up against each other.
Article continues below advertisement
On one side of the ring is America's sweetheart -- the 46-year-old, down-to-earth, Oscar winning star, Sandra Bullock.
At 5' 7 1/2" and weighing in at approximately 120 lbs., Bullock has a healthy, curvy body and works hard to keep in shape, with a regime of Pilates, kickboxing, and weight training, in addition to running and bike riding.
The actress, who was born to German opera singer, Helga Meyer and Alabama-born Army official, John Bullock, first shot to fame in the 1994 smash hit, Speed.
She has since starred in a slew of blockbuster movies, including 28 Days, Miss Congeniality, Crash, The Proposal and The Blind Side -- making her one of the most sought after and highly paid actresses in Hollywood, with an estimated net worth of $125 million.
In addition to her red hot acting career, Bullock also runs Fortis Films, was the executive producer for The George Lopez Show, owns a restaurant called Bess Bistro and a bakery and floral shop called Walton's Fancy and Staple -- both in Austin, Texas.
Article continues below advertisement
Jesse James Holding Out Hope Of Reconnecting With Sandra Bullock, Louis Bardot
Bullock has won numerous awards over the years, including two SAGs, a Golden Globe and an Academy Award for The Blind Side.
The actress has had a checkered romantic past - she was once engaged to actor Tate Donovan, whom she met on the set of Love Potion No. 9 - they dated for three years before splitting in 1995. Next up - Dallas Cowboys quarterback, Troy Aikman, A Time To Kill co-star Matthew McConaughey, indie rock singer Bob Schneider and Murder By Numbers co-star Ryan Gosling - who was 16 years her junior.
Sandra met Jesse after arranging for him to meet her ten-year-old godson as a Christmas present - they married in July 2005.
As RadarOnline.com previously reported Sandra filed for divorce from James on April 23, after learning of his multiple infidelities; it was finalized June 28.
At the same time she went public with her decision to divorce, Bullock shocked the world with her announcement that she had secretly adopted a baby boy, called Louis, from New Orleans.
Article continues below advertisement
Bullock disclosed that she and James had started the adoption process together four years previously, but in light of their split and subsequent divorce, Bullock made the decision to continue the adoption of Louis as a single parent.
Whoa -- seems Kat Von D has some pretty big shoes to fill -- but is she woman enough to do so?
Well, at 28 she has a few years advantage in the age stakes, and at 5'9 1/2" she also has a little extra height.
The reality star has struggled with her weight over the years, but currently weighs in at approximately 130 lbs., and is a regular at the gym in her bid to keep in shape.
Kat was born Katherine Von Drachenberg in Neuvo Leon, Mexico to Argentinian parents, René Drachenberg and Sylvia Galeano - moving to LA when she was four.
The tattoo artist got her big fame break in July 2005, starring in the first three episodes of the TLC reality TV show, Miami Ink.
Article continues below advertisement
She subsequently scored her own spin-off show, LA Ink, which followed her work at her tattoo shop, High Voltage Tattoo, in Hollywood.
In addition to her reality TV show and tattoo parlor, Kat has also written a New York Times bestseller book, High Voltage Tattoo, created a make-up line for Sephora and is the creator of the MusInk Tattoo Convention and Music Festival which began in 2008.
Like Bullock, Von D has also been recognized for her work in her chosen field -- gaining a Guinness World Record for most tattoos given by a single person in 24 hours, with a total of 400.
PHOTO: Kat Von D And Jesse James Play Kissie Face
However, when it comes to finances Bullock really leaves Von D in the dust - the next Mrs James is estimated to have a net worth of a paltry $5 million.
Romance wise, Von D also has some catching up to do if she wishes to go head to head with her predecessor.
She was previously married to fellow tattoo artist Oliver Peck, but they divorced in August 2007. She moved on to Whitestarr drummer Alex "Orbi" Orbison, then dated Motley Crue bassist, Nikki Sixx from 2008 to Jan 2010 before hooking up with James.
Article continues below advertisement
Von D says that she first met James when she was 22 when he had a program on the Discovery Channel, but romance didn't bloom until last summer.
She has no children and last October stated she has no desire to become a mother: "Since I was seven, I knew I was never going to have children," she said. "I love children though; children like me because they think I'm a cartoon."
RELATED STORIES: