Exclusive
Supermodel Iman Giving Career Tips To Real Housewife NeNe Leakes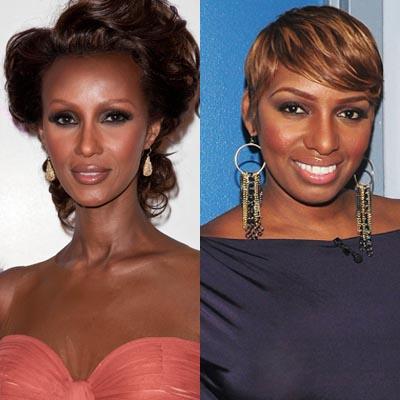 It's not the most obvious of partnerships!
Former supermodel Iman has been giving Real Housewives Of Atlanta star, NeNe Leakes tips about how to brand herself with her own make-up and clothing line, RadarOnline.com can exclusively reveal.
VIDEO: NeNe And Iman Talk Golden Globes Fashion
NeNe and David Bowie's wife appeared on Watch What Happens Live Wednesday night to talk about the Golden Globes fashion.
Article continues below advertisement
And the famous supermodel turned TV host -- who has made a fortune out of her own make-up line -- has encouraged NeNe to strike out on her own too.
The Somalia born beauty's make-up line, Iman Cosmetics, is a $25 million a year business and specializes in making products for ethnic women.
The source revealed: "At present NeNe does not know if she will return for the new series of The Real Housewives Of Atlanta and is trying to negotiate better terms.
"She wants to market herself as a brand by bringing-out her own make-up and clothing line because she thinks a lot of black women would buy her products.
"Iman is very experienced in this area and she was happy to give NeNe a few pointers in this area and she was really appreciative of the advice."
Producers from RHOA are hoping that they can persuade NeNe to sign-up for another season but they know they will have to give her a major pay-hike to sign on the dotted line.
Article continues below advertisement
A source close to the reality star says that privately she is through with the show because she does not really get on that well with the other women and she is really looking for a career move.
Claiming NeNe is ready for big changes in 2011 and, in addition, there have been constant rumors that she will divorce her husband Greg Leakes too.
"I'm not really interested in joining the next season," NeNe told Zap2it recently. "I'm just not really interested right now."
Leakes is set to raise her public profile when she appears on the Celebrity Apprentice on March 2011.
NBC producers of Donald Trump's show are hoping that the reality diva - who locks horns on camera with Star Jones - will prove to be a ratings winner for the 11th season.
VIDEO: The Atlanta Housewives Go Head-To-Head
But whatever happens NeNe is already making plans to push ahead with her career and life this year.