Exclusive
RADAR INTERVIEW: 'I Wanna Shoot Lady Gaga' Singer Sabrina Fires Back At Critics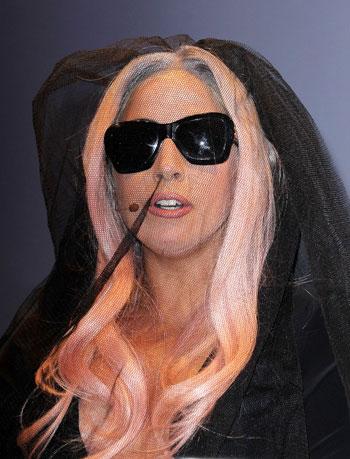 Recording artist Sabrina has struck back at critics who took issue with her controversial single I Wanna Shoot Lady Gaga, particularly the Coalition to Stop Gun Violence and those who tied it in with this month's tragic shooting in a Tucson, Arizona supermarket parking lot.
In a statement to RadarOnline.com, Sabrina sets the record straight on the timing of the release of her song and has a few choice words for the Coalition to Stop Gun Violence.
Article continues below advertisement
Listen To 'I Wanna Shoot Lady Gaga'
"It really disgusts me that people would associate my song I Wanna Shoot Lady Gaga with the tragedy in Arizona," Sabrina says adding, "This song concept and vision was planned several months ago with my publicist, Jonathan Hay, way before the shooting happened. It was already set up to be released."
Last week, RadarOnline.com spoke with Ladd Everitt, Communications Director for the Coalition to Stop Gun Violence about Sabrina's song, who said, "You would hope that the person that put the song out would recant it and apologize."
Sabrina responds to Everitt's statement telling RadarOnline.com: "When I heard that Ladd Everitt told you guys that I should apologize and recant my song "I Wanna Shoot Lady Gaga" it really made me appalled. I'll never apologize for something that I am so passionate about," says Sabrina, adding, I Wanna Shoot Lady Gaga is not wicked or evil, it is strictly tongue-and-cheek. I said some of this earlier, but the only way I'd apologize is if Lady Gaga would apologize for the severe damage she has done to our society all across the world with her un-Godly perversion and the evil that she helps spread to the world.
Article continues below advertisement
"Ladd Everitt is an idiot and he should apologize for making such a ridiculous statement about my song, probably at the same time his children and the families of his coalition are at home playing violent video games, listening to Eminem, watching R-rated movies from Redbox, or downloading them from the internet. He probably has no idea what the kids in his own coalition are watching right now on YouTube.
"I should do a follow up song called I Wanna Shoot the Coalition to Stop Gun Violence.
And does Sabrina have plans to apologize to Lady Gaga?
"If she would recant her whole image, sure, I would apologize and recant my harmless song.
"What about her Rolling Stone cover where she is nude and she is holding two machine guns over her breasts -- is that violent? I mean, it's right there on the cover of the Rolling Stone magazine where any child or young impressionable teen can see it while walking down the supermarket aisle. And my single is inappropriate?"
Article continues below advertisement
Sabrina also offers an opportunity for Lady Gaga fans to reach out to her and makes a promise she intends to keep.
"If Lady Gaga's little monsters want to talk to me, or anyone for that matter, my door is open at www.facebook.com/actuallysabrina.
"I can promise you all this: at some point this year, I will shoot Lady Gaga with my squirt gun filled with holy water laughs. Lady Gaga sold her soul and gave her body to the devil."