Exclusive
EXCLUSIVE: Lindsay Lohan's Accuser Cut Secret Deal For $25,000 After Declining To Press Charges; Dumps Lawyer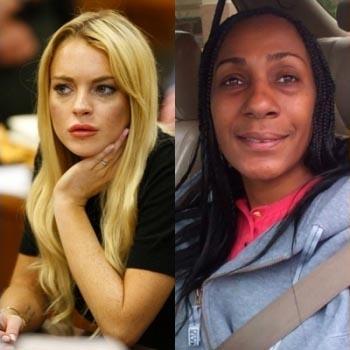 The fired Betty Ford worker who accused Lindsay Lohan of criminal battery secretly cut a $25,000 deal with the Hollywood actress' camp after refusing to testify against her, RadarOnline.com has exclusively learned.
What's more, a source also tells us exclusively that Dawn Holland fired her Los Angeles-based attorney Keith Davidson on Thursday afternoon after the payday never materialized.
Davidson told RadarOnline.com that he is no longer representing Holland and says the decision was "mutual."
Article continues below advertisement
The source continued: "Dawn agreed to a $25,000 payment from someone directly associated with Lohan's camp," a source with knowledge of the situation told RadarOnline.com.
"Dawn wanted the amount paid upfront. But Lohan's camp wanted to spread it out over a period of a few months, paying her in installments.
"That didn't suit Dawn, so the parties then agreed, in principle, for Lindsay to participate in a sit-down television interview with Dawn." The plan was for Dawn's camp to shop the interview to various media outlets.
"When the deal didn't materialize, Dawn became frustrated, fired her lawyer and engaged new legal counsel."
When asked by RadarOnline.com for comment, Davidson said: "It is true that Ms. Holland and I are not working together on this case or any other, and the decision was mutual.
Without confirming or denying that there were in fact civil settlement negotiations, if in fact there were negotiation they would be confidential, and I would therefore be prohibited on commenting on it."
Article continues below advertisement
It is not immediately clear if Lindsay was aware of the deal.
According to Holland, a drunk Lohan, 24, and two other female patients tried to sneak back onto the rehab's premises by jumping a wall but were caught by security.
But Holland, a recovering addict, retreated from the explosive charges she first made in a paid interview with TMZ.
As RadarOnline.com first reported, Holland told law enforcement she wanted charges of battery against Lohan dropped and then-lawyer Davidson said "nor will she be assisting any further in the investigation or prosecution".
The source stopped short of saying that the payment to Holland was struck to buy her silence and cooperation, a situation that would likely have legal repercussions.
The Riverisde County DA still has not made a decision on possible charges against Lohan from the Betty Ford incident with Holland and the Los Angeles County Probation Department and a Beverly Hills judge could still find that the troubled star violated probation.