PHOTOS: Martha Stewart Suffers Split Lip After Getting Headbutted By Dog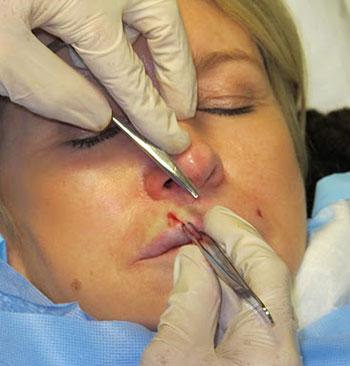 Ouch.... now THAT looks painful!
Martha Stewart ended up in the emergency room Tuesday with a split lip after getting headbutted by one of her beloved dogs, Francesca.
The 69-year-old suffered a nasty gash in her top lip which required nine stitches to close it and RadarOnline.com can bring you the photos, courtesy of Martha's blog.
The domestic goddess posted her emergency room pictures today, along with an explanation of what happened.
Article continues below advertisement
"I returned home from my trips to Cartagena, Columbia, South America, and Orlando, Florida on Tuesday night, right before the predicted snowstorm," she writes.
"I unpacked, sorted my stuff, and played with the dogs. I planned to get into New York City that night, so I would not be delayed in the morning by the snowfall – twenty inches were forecast! I had a 7:00AM call at the Today Show and a 9:00AM call for the Martha Show.
"As I leaned down to whisper goodbye to a dozing Francesca, I must have startled her, because she bolted upright with such force that she hit me in the face like a boxing glove hitting an opponent's face. I was entirely startled and my neck snapped back.
"I felt a bit of whiplash as blood gushed forth from my split lip. Frannie was as upset as I was and cowered in her bed.
"Rushing to a mirror, I realized it was a pretty serious gash. I called Alexis and asked her to call the hospital to get a plastic surgeon to the emergency room. I called the police to ask for a ride to the hospital, forgetting that Carlos, my driver was waiting to drive me into the city.
Article continues below advertisement
"Carlos and Betsy Perreten, my stable manager, packed me into the car and we drove in the falling snow the few miles to the emergency room in Northern Westchester Hospital, my wonderful neighborhood medical center. When we arrived, I was instructed to lie down and wait until the plastic surgeon on call, Dr. William Nolan, could get there from his nearby home.
Martha Stewart Pulled Her Hair Out Over Ex-Husband, Says Pal
"The pictures tell the rest of the story. Thank you, Betsy, for taking the photos. Thank you Carlos, Alexis, and Mike. Thanks to the hospital staff for their prompt and professional attention and of course, Thank you, Dr. Nolan!"
Stewart is a renown animal lover - her pets include champion show Chow Chow dogs, French Bulldogs, Himalayan cats and Friesian horses.
Francesca is one of the French Bulldogs, and she and Martha's other Bulldog, Frenchie, have their own blog site called The Daily Wag.