PHOTOS: Legs, Butts, Boobs & More! Bikini Stars Strip Down & Show Off Their Best Features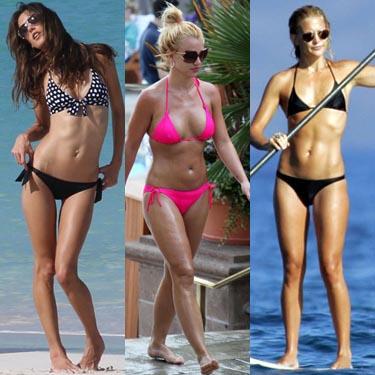 There's no denying that these bombshells are all MVP's when it comes to their bikini bodies, but which one of their awesome assets put them on our Radar? Hollywood's hottest bodies strip down and put their goods on display in this special photo feature.
Kim Kardashian didn't earn herself the nickname The Tush for nothing. Like Sir Mix A Lot raps in the timeless tune Baby Got Back, the bottom heavy bombshell has "little in the middle but she's got much back!" But Rihanna also totes some fabulous junk in her trunk. The Barbados born beauty loves showing it all off in flirty and fun bikinis-and we 'Love the Way' she looks! To see Kim's bikini booty click here and Rihanna's here.
Article continues below advertisement
Pamela Anderson is famous for her Baywatch boobs, but we have to admit-it's her legs that really deserve the attention. Even after all these years, Pam has maintained gorgeous gams, which she shows off in barely there bikinis. Cameron Diaz also has herself a pair of beyond superior stems, which are sexy and slender and go on for miles and miles. See Pamela's awesome bikini body here and Cam's here.
Kelly Bensimon definitely packs more heat than any other Real Housewife in NYC. The former model totes a painfully chiseled 6-pack when she strips down, which can only be accomplished through hours of excruciating ab exercises. See Kelly's hot body here.
And Britney Spears dances her way to AbFab status. Though she let it go loose for a brief moment in time, the popstar rehabbed her most valuable asset just in time for her career comeback. See Brit's impressive midsection here.
MORE ON:
Sexiest Bodies Hollywood
Article continues below advertisement