PHOTOS: Khloe Kardashian Channels Hannibal Lecter For YRB Shoot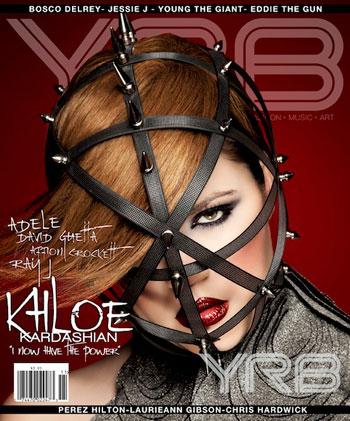 We've got just-released pictures of Khloe Kardashian's new spread for YRB magazine, in which the NBA wife makes a bold fashion statement in a studded S&M mask.
"Isn't it fab?!" the 26-year-old socialite wrote on her Celebuzz blog. "It's so different from anything I've ever done, which was what made the shoot so fun for me!"
Khloe explained the interesting creative direction the publication took with their artsy, avant-garde photos.
Article continues below advertisement
"YRB is known for being very wild and crazy with the content they publish, so I jumped at the chance to work with them!" she wrote. "I love experimenting with different looks and this was the perfect opportunity for me to do that."
She wrote that the "shoot was actually part of the inspiration behind my decision to dye my hair red.
"I had been considering it, but then the shoot went so well so I decided to go for it that day!"