Exclusive
EXCLUSIVE: Celebs Rally Around 'Too Fat' Holly Madison, Insist 'She's Built Like Every Man's Dream'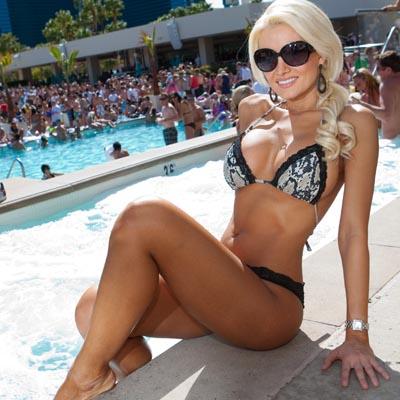 Men and women were united in amazement following RadarOnline.com's exclusive interview with Playboy beauty Holly Madison, in which she revealed she was told she was 'too fat' by Las Vegas show producers and ordered to lose weight.
And it's not just the common folk that are stunned by the report. Holly's celebrity friends are coming out in support of the curvy 32-year-old, calling the producers 'ridiculous' and insisting that Holly is 'built like every man's dream.'
Article continues below advertisement
Former Bachelorette finalist, Jesse Csincsak knows a thing or two about beautiful women, and having met Holly face-to-face on more than one occasion, he's a man that's able to speak with authority when it comes to the former playmate's fine form.
"I've met her a few times at the mansion and she is built like every man's dream girl," Jesse tells RadarOnline.com. "She has big boobs and a small waist.
"I think it is absolutely ridiculous they have asked her to lose weight, if anything she could gain a couple of pounds. She looks great."
And it appears that you don't have to just be heterosexual to appreciate Holly's beautiful body. Former drag queen turned famous author and The Fabulous Beekman Boys' star, Joshua Kilmer-Purcell may play for the other team, but he still knows a thing or two about what makes his straight brothers tick when it comes to women.
"I don't think there's a straight guy in the world that would think a little more Holly is a bad thing,' he tells RadarOnline.com. "An extra curvy Holly Madison makes Burlesque Bur-more!"
Article continues below advertisement
Meanwhile, Bachelor Pad contestant Natalie Getz agrees wholeheartedly with her fellow reality star's opinion. "Dave Good and I went to see her in Peep Show, and it was hilarious and entertaining," she tells RadarOnline.com. "We actually noticed that all her back-up dancers were about 30 pounds lighter than her.
"But, without doubt, most men in America would prefer her type of body than those of the back-up dancers. It is not right that they asked her to lose weight, because she looks great, she just looks bigger in comparison to her dancers.
"It's sad that in today's society people need to be so thin, but it's no surprise really that these unrealistic demands are placed on women - it comes with the territory."
Holly, however, told RadarOnline.com that she was "shocked" when she was told she's too fat, and needed to drop some pounds to star in the hit stage production of Burlesque.
VIDEO: Kendra Talks Stripping, Drug Days In New Book
"I always thought I looked fine. It was a shock to me when they told me to lose weight," she said. "I'm still up in the air over what to do. I feel like I changed my eating habits to really healthy; I've lost a few pounds.
Article continues below advertisement
"I'm still getting there and deciding if I even want to lose weight."
Never one to keep her opinion to herself, outspoken Jersey Shore star Angelina Pivernick is also keen to weigh in on the subject - telling RadarOnline.com: "In three mega-hit seasons of Jersey Shore there has never been an ultra skinny girl, and it certainly didn't affect ratings.
"There's no way Holly is too fat, and she doesn't need to lose a single pound. At the end of the day guys don't like girls to be skinny like a twig, they like women with a bit of meat on them."