PHOTOS: The 'Just Friends' Phenomenon -- Who's Real & Who's Faking It?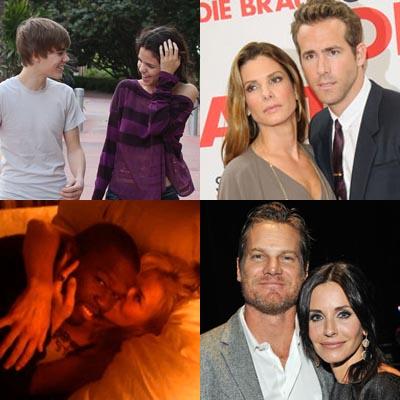 From Justin Bieber and Selena Gomez to Chelsea Handler and 50 Cent, Hollywood is rife with celebrity couples claiming to be 'just friends.'
But as Sandra Bullock and Ryan Reynolds become the latest pair to hit the rumor mill, RadarOnline.com digs deeper into the A-list platonic phenomenon.
While many romances begin as friendships, it has become habit for celebrities and their reps to issue a statement denying they are anything more than pals.
Article continues below advertisement
But when the likes of Brad Pitt and Angelina Jolie publicly insist there is nothing going on - then Pitt leaves his wife and moves in with co-star Jolie and they live happily ever after -- it begs the question as to why we should believe them.
"It's a jungle out there and celebrities don't like to think they could get dumped in public," said psychiatrist and author, Dr. Carole Lieberman, who specializes in relationships. "So they say they are just friends.
"People are getting their hearts broken more than ever. I have to say that I'm not sure men and women can really just be friends. At the end of the day, it normally comes down to one person liking the other more.
"And the one in love tries to settle for friendship, just so they can have some kind of relationship with them!"
Many celebrities meet on set where they insist they are just friends or co-stars, such as rumored couple Courteney Cox and Brian Van Holt.
Article continues below advertisement
Michael C. Hall met his soon to be ex-wife, Jennifer Carpenter while filming the killer hit Dexter, and he has now been linked to his new co-star, Julia Stiles.
But this is a dangerous way to find love, according to Lieberman, who believes the reason for so many Hollywood break-ups is because they are living in a fantasy world.
"They are thrown into a relationship on the movie or TV show they are working on," she said. "Actors want to play the role so convincingly that they convince themselves they are really in love with that person.