Brad And Angelina Heading Toward Nuclear Split, Says Dr. Drew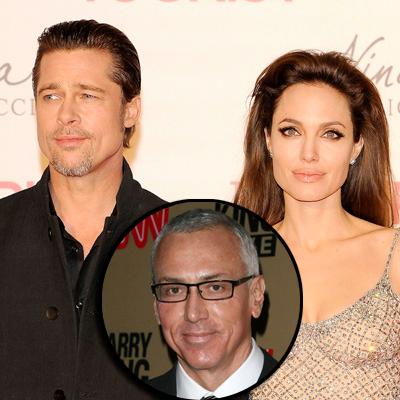 Hollywood's preeminent red carpet couple, Brad Pitt and Angelina Jolie, are on a one-way road toward splitsville, Dr. Drew Pinsky told the Huffington Post in a new interview.
"Just add up a couple things... there's no such thing as 'I was a heroin addict,'" the Celebrity Rehab host (who does not treat the couple) said in reference to Jolie, who's been linked to the dangerous drug in the past. "That doesn't exist in nature. Something is going on with her addiction. Or she's in recovery. And I don't see any evidence that's the case. So we've got one person who's a heroin addict. Which is a chronic lifelong condition, period."
Article continues below advertisement
Pitt -- who famously left then-wife Jennifer Aniston for Jolie, after the two struck up a romance on the set of their film, Mr. & Mrs. Smith -- didn't get it much easier, as Pinsky pointed out interesting predictors of the Megamind star's future behavior.
"We have another person who has said things like, 'Well, Jennifer Aniston was into long-term relationships, that's just her way of looking at things,'" Pinsky said. "I mean, that demeaning attitude towards other people's emotions.
"Now put those two people together and you have got a really volatile situation. And they're constantly creating things to weld themselves together. Which is only going to serve to make a more nuclear eruption. There will be some sort of meltdown that will be phenomenal when it does happen."
RELATED STORIES: