PHOTOS: James Franco Gets In Touch With His Inner Suzanne Somers At Sundance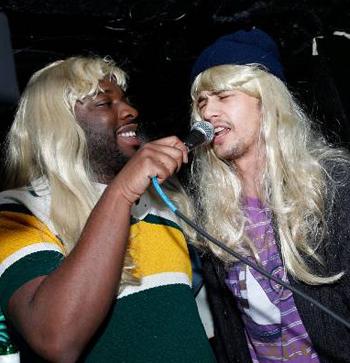 Sotheby's Presents Chefdance is a series of dinners prepared by some of the top chefs in the country, pairing their food with Rosenthal Wines and Belvedere vodka, all for the delight of the filmmakers attending the Sundance Film Festival. Everyone had a blast at Friday night's kick-off dinner. And then there was James Franco!
The 127 Hours star showed up as Chrissy from Three's Company.
It was all part of the legendary prankster's promotion of his documentary film, Three's Company: The Drama, premiering at the festival.
Article continues below advertisement
Franco was given the rights to redo the first three episodes of the 70's hit TV show, with a modern day twist. His documentary was unveiled Friday at Sundance.
Franco was joined by pals Andie Macdowell, Eliza Dushku and Rachel Leigh Cook, all of whom got into the spirit.
PHOTO: Life's A Drag For James Franco; His Gender-Bending Magazine Cover
He even sang along with the DJ after convincing him to don his own Chrissy wig.