James Franco & Natalie Portman Among Nominees For The 2011 Spirit Awards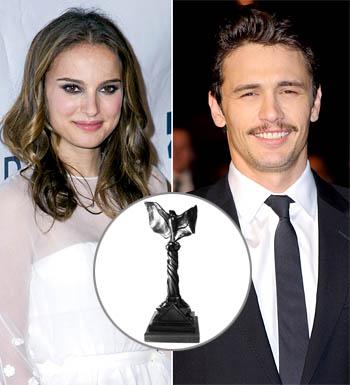 In what could be a precursor to Oscar, James Franco (127 Hours) and Natalie Portman (Black Swan) are among the nominees for the 2011 Spirit Awards.
The nominations, released Tuesday, celebrate the best in independent films.
In addition to Franco and Portman getting acting nods, their respective films were honored with nominations for Best Feature, as were Winter's Bone, The Kids Are All Right and the quirky Ben Stiller film Greenberg.
Article continues below advertisement
In all, Winter's Bone earned the most nominations - 7, with The Kids Are All Right coming in second with 5. Black Swan, Greenberg, and the Nicole Kidman drama Rabbit Hole each nabbed four nominations.
The movie Please Give was selected for the Robert Altman Award, which is given to one film's director, casting director and ensemble cast.
VIDEO & PHOTOS: Brad Pitt Attends Megamind Premiere Without Angelina Jolie
Community star/Talk Soup host Joel McHale will present winners with their awards.
Winners will be announced at the Film Independent Spirit Awards on Saturday, February 26 on the beach in Santa Monica, California. IFC will broadcast the event later that night at 10 pm.
Here are some of the top nominees:
BEST FEMALE LEAD
Annette Bening, The Kids Are All Right
Greta Gerwig, Greenberg
Nicole Kidman, Rabbit Hole
Article continues below advertisement
Jennifer Lawrence, Winter's Bone
Natalie Portman, Black Swan
Michelle Williams, Blue Valentine
BEST MALE LEAD
Ronald Bronstein, Daddy Longlegs
Aaron Eckhart, Rabbit Hole
James Franco, 127 Hours
John C. Reilly, Cyrus
Ben Stiller, Greenberg
BEST DIRECTOR
Darren Aronofsky, Black Swan
Danny Boyle, 127 Hours
Lisa Cholodenko, The Kids Are All Right
Debra Granik, Winter's Bone
John Cameron Mitchell, Rabbit Hole
For a complete list of all the nominees, go to www.ifc.com