PHOTOS: Leading Ladies Get Glam For Gotham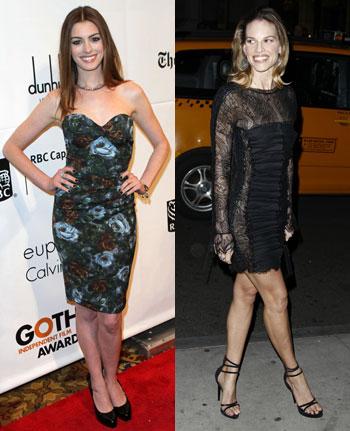 Hollywood's leading ladies got all dressed up for the 20th Anniversary Gotham Independent Spirit Awards in NYC, hitting the red carpet in (mostly) sexy style.
While Anne Hathaway rocked a fab floral Dolce & Gabbana sweetheart strapless number, Hilary Swank showed off her gorgeous gams in a short and lace-sleeved Emilio Pucci mini.
Leighton Meester tried too hard once again, dressing up like a dude (a la Diane Kruger and Alexa Chung) in a Thom Brown suit with Ferragamo heels. How many more fashion flops is it going to take before this Gossip Girl learns her lesson a la mode?
Article continues below advertisement
Winona Ryder may be making a career comeback, but she has got to try harder on the red carpet. The Heathers star looked like an upside down cupcake in her Dolce & Gabbana lace party dress, which was far from figure-flattering on her!
Natalie Portman showed off her hot bod in a thrifty but chic Lanvin for H&M one-shouldered frock, while her Black Swan costar Mila Kunis opted for an Oscar de la Renta sweetheart strapless.
See all the style at the Gotham Independent Spirit Awards on RadarOnline.com.