PHOTOS: Bikini Bachelorettes! Hollywood's Sexiest Singles Strip Down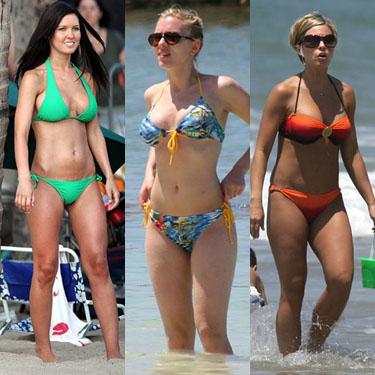 These Hollywood stars are rich, famous, and have the most banging bikini bods on the beach, which makes it hard to believe that they aren't sporting huge bling on their ring fingers.
RadarOnline.com has photos of the hottest bikini bachelorettes on the beach, showing off their bods in barely-there fashion. Kim Kardashian's swerving curves are some of the most talked about in Tinseltown.
The busty and bootylicious divorcee has played the game of love with football and basketball's hottest pros, but none of the player's have been able to get her to give up the single life, making her one of the most eligible babes in Hollywood. See Kim's famous figure here.
Article continues below advertisement
Hearts broke across the world when Eva Longoria tied the knot with Tony Parker in 2007, but now the Desperate Housewife is back on the market!
Eva's hard body always steams up the beach, so we can't imagine that she will be single for very long. See Eva here.
This hot bikini body comes with a brood of eight! Though her ex husband Jon has moved on several times, Kate Gosselin's hands have been full, juggling mommy duty and Dancing with the Stars plus her TLC duties. Whatever guy lands Kate will have a lot to handle when it comes to diaper duty but her sizzling figure will definitely be the reward. See Kate make a splash in her swimsuit here.
Though Rihanna has shared her Umbrella with Chris Brown and Matt Kemp, the sexy singer has never walked down the aisle. With her exotic looks and crazy curves, Rihanna is a hot commodity on the stage, and on the beach. See Rihanna here.
And foxy Friend Jennifer Aniston has dated some of the hottest guys in Hollywood, but only Brad Pitt was lucky enough to put a ring on it. The longtime bikini bachelorette steams up the beach whenever she strips down. See Jen's bikini bod here.